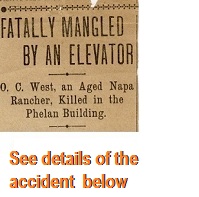 INTRODUCTION: John and Clarissa West of New York and Iowa
John West was a pioneer of Solon, Iowa. He was born in New York in 1797 according to census data. Research has not yet revealed his parents or specific birthplace. The same is true for his wife Clarissa. No evidence of their marriage been found. Spurious claims posted in several 'family trees' at Ancestry.com purport that John West married Clarissa Chiles in New York in 1822--but provide no documentation of such marriage. (See 2017 update )
Orson and Clarissa may have come to Solon as part of a group migration from New York or northeast Ohio. They came with at least one son, Orson, and a daughter, Julianne/Julia Ann. (See 2017 update.)
Census and other records of Johnson County between 1840 and 1850 suggest that another family was living with John and Clarissa West. Possibly John or Clarissa's father was in the household --or John's son-in-law, Archibald Blain. Histories mention that John and his wife were charter members of the Methodist Episcopal Church of Solon. (Future research may reveal that Clarissa and John's ancestors are related to the Parks, Cannons, Stiles, Pratts, Browns, Gowers, Blains, McGrew, McCune or Adams.)
Clarissa apparently died between 1850 and 1853 although neither her death nor burial record survived. John then married Hannah Hill in 1853. It is not clear whether "Mr. and Mrs. West, charter members of the Methodist Episcopal Church," refers to John and Clarissa or John and Hannah. The church was probably established in the 1840s when Clarissa was still alive, but the structure was not built until 1855 at which time John was married to Hannah.
2017 update: Recent findings show that John and Clarissa West also had a daughter named "Julia Ann," born in 1825 in New York. Julia married Archibald Worley Blain in Solon in 1839. Archibald Blain was not listed in the 1840 U.S. Census for Solon, so it is possible that he and his wife Julia Ann and their family were the additional people living in the household of John West in the 1840 census.
(Please see discussion of details about Julia West Blain.)
John West is mentioned in histories of Johnson County as the partner of Hamilton H. Kerr. Together they hired Cyrus Sanders in October 1840 to lay out eighty acres of Big Grove Township for the town of Solon. Although John platted the town of "Solon" he did not record title to any of the town land. Johnson County land sales were sold out of the Iowa City Land Office after the U.S. Treaty of 1832 which acquired the lands of the Sac and Fox Indians as a result of the Blackhawk War.Big Grove township was part of the Blackhawk purchase of 1832--land ceded to Johnson County from the Sac and Fox people. Johnson County formed in 1837. The first settlers came in 1838. John was appointed a director to cut a road from Solon to Iowa City in 1842. John later acquired property in Newport Township north of Big Grove where he died in 1861.
---
---
ORSON WEST AND CATHERINE GRIFFITH
Orson West and Catherine Griffith may have met in Big Grove Township, Johnson County, which is located in the eastern tier of Iowa. They each came with their parents to this region, Orson about 1838 at age 11. Their families may have met earlier in eastern Ohio and migrated together to Iowa. Catherine went by the name "Kate". (G2)
Both Orson and Kate acquired deeds to farm land in Johnson County about 1850. Orson and Kate disposed of their land and eventually moved to Illinois and/or Missouri. Between 1850 and 1860 Orson acquired $3,000 in assets while Kate's father and brother acquired $47,000 between them. No record of any inheritance has been found. However the photo of Orson,(right) taken as a young man in San Francisco, suggesets that they went together to the California gold rush and made a substantial money. No record of a gold strike has been found. It seems likely that Orson made money in the cattle trade in San Francisco.
Since Orson later became a stock dealer, it is possible he learned the trade from some of the first stock raisers of Solon, Iowa. Orson and Catherine moved frequently between Missouri and Illinois. This movement might be attributed to the Civil War. Missouri was a Union state with strong Confederate sympathies. Kansas City and the region of southern Missouri became a dangerous place. Kansas Jayhawker abolitionists fought Missouri Bushwacker Confederates in the border between Kansas and Missouri. Illinois was a Union state and would have been relatively safe. Quincy, Illinois was a stop on the Underground Railroad.
Orson and Kate Griffith West raised a family of seven children--four boys and three girls. Yet they produced no grandchildren who survived to adulthood--except through their son Charles. Nevertheless the West line died out with Charles. Charles sired 2 sons and 2 daughters. Only one daughter produced offspring, but they do not further the DNA investigation of the male line. Neither of the two sons produced any known male heirs--only daughters.
Kate apparently died in Quincy, where Orson purchased a burial plot in 1879 but no tombstone was found for Kate.
CHILDREN OF ORSON AND KATE WEST:
James Griffith West (1851-1942): married twice (Lavina Carrol in MO 1873, Marie McDowd in CA?). Had no known children.
Alfred Lynn (1857-1929) married once? (based on 1880 census stating his marital status as 'divorced.' No further information.)
Albert (1857-before 1870) Twin of Alfred Lynn apparently died young.
Plasant Morris (1860-1885) married Hettie Emeline Pattison, Saline, MO in 1882. They had only two children-- both died in infancy.
Cora (1865-1946 ) married Melvin Beardsley in Santa Cruz, CA in 1898. They had no known children
Opal (1867-1934 ) married Edwin Colley in San Jose, CA in 1906.They had no known children
Charles (1862-1932 ) married Ella Calhoun in Kansas City in 1889. They had four children (one died young). (see below).
About 1880 Orson and his children returned to Kansas City. In the mid 1890's Orson and several of his children went west first to Colorado and then to Napa, California.
Death of Orson Chiles West
Orson died in a tragic accident when he fell down the elevator shaft of a San Francisco high-rise named the Phelan Building in 1901. The coroner's jury found that the accident was caused by a nine-year-old boy playing with the controls. The boy's name was Redmond Johnson, the son of a clerk who worked in the building.
The images below show the original news report (right) and the later news report on the involvement of Redmond Johnson (left) and the Coroner's Report (below).
For transcript of the articles see the Obituary PDF File.
To enlarge coroner's report see larger image
For brief description of Redmond Johnson (with photos) please see Redmond PDF file
See details of Phelan Building and Elevator accidents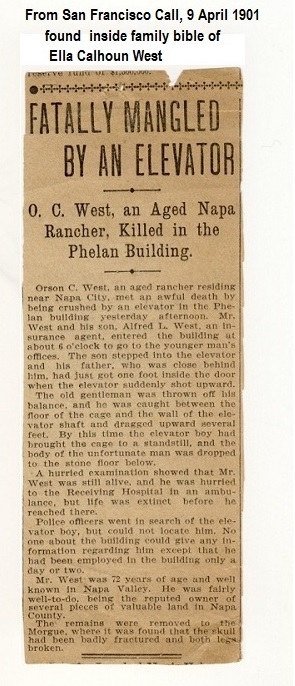 Based on the birth place of each child as indicated in the census, and upon subsequent residence as shown in city directories, the following approximates the family's movement:
1840-1850: Before marriage they reside in Solon, IA. (C1-C4, D1-4)
1851: Reside in MO and first son is born (B5, C5)
1851-1857: Orson goes to California--(Gold Rush?) acquires some money [$3000] (C5) and is photographed in San Francisco (G2)
1857: Reside in Quincy, IL when twins are born. (C6)
1858: Catherine's sister, Rachel,is said to have married Pleasant Morris Harlan in Quincy
1860: Reside in Kansas City at time of 1860 census (C5)
1862-1870: Reside in Quincy (births of youngest son and 2 daughters) (C6).
1874: Kate lives in Chicago (apparently -- from letter she writes to Henrietta Pattison.(Source: G2)
1879: Catherine apparently dies in Quincy about 1879--when Orson buys a burial plot.(B10)
1880: Orson and his children reside in Kansas City according to city directories and 1880 census (C7)
1882-1890: Alfred goes to Chicago, Louisville etc. (G1)

Pleasant Morris marries Henrietta Emeline Pattison in 1882. Two daughters born but die in early childhood. Pleasant dies in 1885. His wife remarries 30 years later.(B2, G2)
James goes to Carson City NV and becomes active in the Knights of Pythias Order.(E4)
Alfred joins James for awhile and then goes to San Francisco where he works in the insurance business. (G2)
Charles meets Ella in Kansas City or Rich Hill. (G3)

1891-1896: Charles and Ella marry and go to Denver and then Texas (perhaps Liberty) (B3, G3).
Daughters Cora and Opal go with Orson to California --Orson settles in Napa, (D11) Opal goes to Redwood City,(D9) and Cora to Santa Cruz where she marries oil man, Melvyn Beardsley.(B11) James marries and leaves Nevada to join Orson in Napa.
1900 and later: Charles returns to Kansas City from Texas by 1901(B14). Cora and Melvyn then go to Santa Barbara . When Orson dies in 1901 (B4), Cora and Opal are living in Oakland. Melvyn Beardsley dies a few years later in Chico. In their advanced age Cora, along with James and his wife, Marie,live at the Pythian Home in Santa Rosa. (B5, B7, B8) Alfred spends his last days in Glenn County, CA. (B6, E2)
---
---
CHARLES WEST AND ELLA CALHOUN
Charles West and Ella Calhoun probably met in Rich Hill, Bates Co., MO. Ella had been teaching school in southern Kansas at Wellington. Her widower father lived in Rich Hill. Ella had cousins on her mother's side (Dawson) living in Stanley, Johnson County, Kansas near Kansas City. In the 1880's Charles and his siblings had lived in Kansas City--possibly near cousins on his mother's side (Griffith) and father's side (West).
Charles and Ella married in Kansas City 7 Oct 1889. Marriage License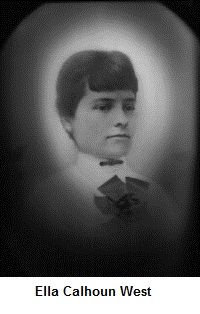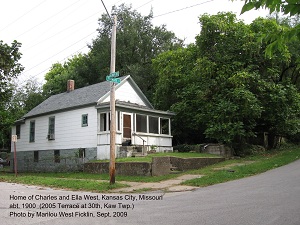 Soon after, they went west to Colorado with Charles' father and siblings. (Some of Ellas's Dawson cousins also moved to Colorado.) Three of the West children were born in Colorado. Charles' father and siblings proceeded on to California. Some of the Dawsons remained in Colorado but others had settled in Stanley, Kansas near Kansas City.
Charles and Ella went to Texas briefly. Ella returned to Missouri to visit her father but during her visit her child, Cora Verlinda, died. Ella summoned Charles back to Missouri. The couple did not return to Texas but remained in Kansas City, MO the rest of their lives. The question remains: did Charles and Ella have kin in Texas? If so whose kin?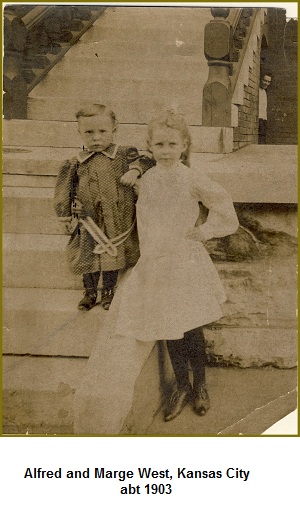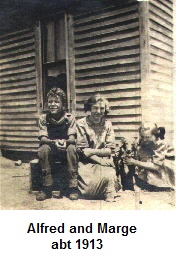 Ella died of kidney failure in 1912. Her son, Fred, married in 1913, and her daughter, Marge, married in 1915. Charles, remarried in 1917. About that time the youngest son, Alfred--still a teenager--left home, possibly in anger at his father (according to his own account). Charles died in 1932. Charles and Ella are buried together at Mt. Washington Cemetery, Independence, MO.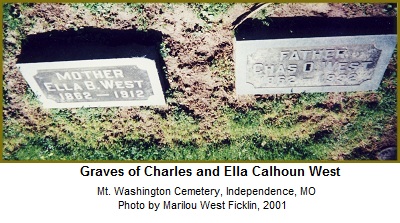 ---
---
ALFRED WEST AND JEWEL HERR
According to Alfred, he lived as an orphan teen-ager with his sister, Marjorie. His 1915 diploma indicates he finished "Greenwood School"--probably eighth grade. The last academic record in Alfred's personal mementos showed he completed one additional year in 1916--probably 9th grade at age 15 1/2. Family oral history suggestes he then left Kansas City to follow the wheat harvest to Oklahoma, Nebraska and Kansas. In winters he returned to Kansas City amd worked in the Cudahy Slaughterhouse. In 1919, about age 18 he followed the harvest to Cupar, Saskatchewan, Canada and then to Cumberland House where he worked for T. Eatons selling traps and rifles to trading posts. He befriended a trapper and began trapping for profit. They lived in mud huts on the ice, eating muskrat and selling the pelts. The following spring he moved to Edmonton, Alberta and then to Vancouver, British Columbia. He turned 19 in September 1920 and made his way down and across the southwest working on the railroad and as a ranch hand in Texas and New Mexico.
By 1921 he had reached southern California and worked in Hollywood films. Movie
By 1922 he had given up the movies and moved to San Francisco where he went to work for Southern Pacific Railroad Company. He married Jewel Herr 29 Dec 1926 in San Francisco, CA.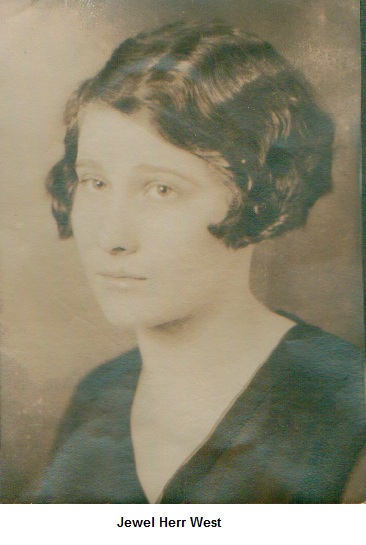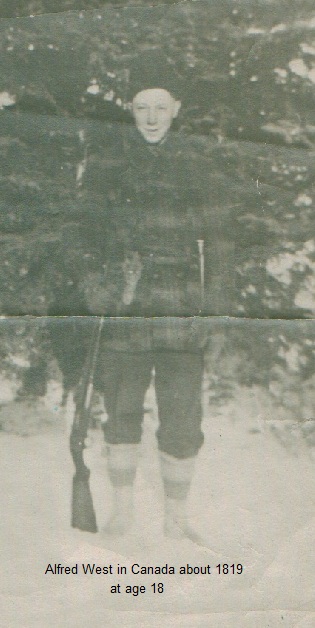 From letters written to Alfred by his father (Charles), sister (Marge), and brother (Fred), it appears that the Wests not only stayed in contact with Alfred, but they also stayed in contact with his mother's cousins in Stanley, Kansas well into the 1920's. Fred and Marge remained in Kansas City into adulthood. Alfred's father Charles died in 1932. Marjorie, Alfred's sister, married Walter Kruse and stayed in the Midwest--mostly in Ohio and Missouri. Alfred's brother, Fred, moved to Southern California and became a salesman for "Pablum" baby food--but maintained a side business --or avocation--in "writing."
Marge and her husband, Walter Kruse, had three children one of whom, Richard, served in WWII at the invasion of Normandy. Walter and Marge lived at various times in Kansas City and Cleveland. Walter worked for the Chesapeake and Ohio Railroad.
Fred and his wife Leota Harriss moved to southern California in the 1930s and had one daughter, Dorothy Jean (born 29 July 1915). Dorothy Jean married 1 Feb 1936 at about age 20 in Los Angeles to Tommy Burk and had two children, Larry and Jaydean.
Fred passed away in 1963 on a trip to see his family in Kansas City. Marge passed away in the 1980's.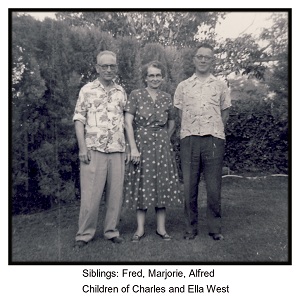 More photos of siblings: Marge Fred Alfred
---
---
---
SOURCES
---
A.Probate
1. John West Estate, Probate Records, Johnson Co., IA, Vol. 3, 1858-1863, Bk 3:351: Estate of John West deceased, Johnson County Court August 1866, est. opened 10 Aug 1861. Appt. James Hill administrator of estate. John West died intestate on or about 4 Aug 1861. James Hill gave bond. Appraisers Henry Felkner, A.C. Hinman and Serena Hill. P. 407 Hannah West formerly, Hannah Hill guardian of Louisa Hill. Records 56-53 from Court; p. 427, 27 March 1862, administrators report by James Hill; p. 432 April Session. 1862. Files petition to sell real estate May 1 to pay debts; p. 436 petition to continue to 1st Mon in June; p. 493 Probate Records Johnson County 19 Dec 1862 sold real estate s1/2 se1/4 sw1/4 Sec 26 T81N R5W for $35; p. 494 Petition of James Hill to convey real estate--20 acres.; p. 496 Louisa Hill guardianship 19 Dec 1862; Louisa now of age of majority . Asks discharge.
2. Hannah West Estate, Probate Records, Johnson Co., IA, Vol 8, p. 201 Report of Administrator of Hannah West 19 May 1875 to case on note GW Osborn, E. Yarborough, James Hill, Mary Morris, medical bills of Dr. Morris T. North[?], Dr. Adams, Rev. Hastings, 25 Jan 1872 Bk6:615, 1 Feb 1872 Bk 6:623 19 May 1875 Bk 8: 201
3. Index to Guardians, Johnson Co. IA:
Hill, Joseph to Hannah Hill 20 May 1852, Bk 5:80; Hill, Josiah to Rachel E. Osborn 5 Aug 1869, Bk 3:407; 6:205
4. Charles O. West Estate File Jackson County, MO, Probate Court case 37373.
5. Orson C. West Estate file #P1014, Napa County, CA.
B. Vital and Cemetery
1. Marriages of Johnson Co. IA1839-1910: Solon, 17 June 1853 John West to Hannah Hill, Bk 3, p. 1421 May 1854; George Osborn to Rachel E. Hill, Bk 3, p. 22

Archibald Blain to Julia Ann West, March 1839. (See also (1) lineage/descendant records in the DAR--Daughters of the Revolution-- database; (2) U.S. 1850 Census for Johnson County, IA.
2. Marriages of Jackson Co. MO 1805-2002: Marriage of P.M. West and Hattie Pattison. Also reported in People's Tribune, Sedalia, MO 11 Oct 1882.
3. Charles O. West, Jackson Co. MO to Miss Ella B. Calhoun, Jackson Co. MO, 7 Oct 1889, marriage license recorded in Jackson, Co. MO.
4. Orson C. West , "Fatally Mangled by an Elevator," San Francisco Call, 9 Apr 1901
5. James Griffith West, Napa County, CA, Death Certificate, #281. Died 27 September 1942 at age 90 at Napa State Hospital, Napa CA
6. Alfred Lynn West, California State Death Index, age 74, 2 January 1929, Willows, Glenn Co. CA, State Certificate #29-7443.
7. Cora Elizabeth (West) Beardsley, Napa County Death Certificate, Registrar No. 340, died at Imola, CA, Napa State Hospital 9 August 1946 at age 81 yrs, 5 mos., 27 days.
8. Marie (McDowd) West, Sonoma County, CA, Death Certificate 1933000363, Register 33-030542 (Vol. 9, p. 726). Died 23 May 1933. State death certificate #30542.
9. Charles O. West, Missouri State Death Certificate, Register 2412, Jackson Co., Kansas City, 16 June 1932, at age 69.
10. Catherine Griffith, believed buried at Woodlawn Cemetery, Sec. 132, south half Bl. 11. According to Quincy Woodland Cemetery, 1846-1900, Vol 4 (Quincy: Great River Genealogical Society, June 1992
11. Cora West to Melvin Beardsley, Santa Cruz, California 26 September 1898. Santa Cruz County Marriage Book 9, p. 14.
12. Opal West to Edwin Colley, Index to Marriages, Santa Clara County, 1846-1919, California State Archives, Microfilm 1420198.
13. Opal Rachel West, Portland, Multnomah County, OR Death Certificate #121. Oregon Death Index 1903-1998. Died 13 Jan 1934.
14. Loose clipping in Orson West family bible: death of Cora Verlinda West, daughter of Charles and Ella West. Return of the Wests from Texas to Kansas City.
15. James Griffith West to Miss Lavinia Carrol, 9 Oct 1873, married at Kansas City Recorded, 9 Dec 1873, Jackson County. Marriages of Jackson Sounty 1872-1879, Vol 7, p. 137
16. Melvin Beardsley, California State Death Index, age 76, d. 15 May 1915, Butte County, state certificate #14098
17. Harry Edwin Colley, Portland, Multnomah County OR Death Certificate # 2983. Oregon Death Index 1903-1998. Died 23 Nov 1925.
C. Census
1. 1840 U.S. Census, Big Grove Twp., Johnson Co. IA, NARA microfilm M704, Roll 101. John West [112030101 001011] (12 people). This indicates 1 male under 5; 1 male 5-10, 2 males 10-15 (including Orson); 3 males 20-30; 1 male 40-50 (John) and 1 male 60-70 (possibly his father or Clarissa's); 1 female 30-40 (Clarissa) and one female 20-30, 1 female 10-15. This appears to contain two families.
1844 State Census, Iowa Johnson Co., Big Grove Township, transcription, p. 10, line 5, LDS film #1728630 John West household contains 7 souls (7 people--5 lss than 1840)
2. 1850 U.S. Census, Big Grove Twp., Johnson Co. IA, NARA microfilm M432, Roll 208, p. 180, line 12, household 3:
John West, 53, b. NY, farmer, $200 personal property;
Clarissa 49, b. VT
Orsen, 22, b. NY
John Ollerman 14, b. OH
3. 1852 State Census for Johnson Co. IA: John West still listed. [Vol. 2 of Iowa Census 1851-1859]
1854 State Census, Iowa Johnson Co., Big Grove Township, transcription, p. 3, line 12, LDS film #1022206 John West household contains 2 males and 3 females
4. 1860 U.S. Census, Newport, Twp., Johnson Co. IA, NARA microfilm M 653, 2d filming, Roll 327, p. 541, household 365
John West 60, b. NY $460 real estate, $100 personal property
Hannah, 54, b. NC
Barbara 20, b. NC
Samuel Barble, 18, laborer
Louie Hill, 13
John Lucas, 20, Teamster
Emily Meacher 30
5. U. S. Census 1860, 2nd filming, Missouri, NARA microfilm M653, Roll 625, (LDS#0017205) [viewed at Salt Lake City, LDS FHL 3 October 2001] Jackson Co., Kansas City, Div. 35, Vol. 11, p. 89, line 17, dwelling 737, household 785
, O.C. West, 38, clerk, b. NY, $3000
Catherine, 33, housekeeping, 33, b. OH
James, 8, b. MO
Albert, 3, b. IL
Alfred, 3, b. IL
Pleasant M., 7 mo., b. MO
6. U.S. Census 1870, Illinois, NARA microfilm M 593, (LDSRoll#0545686) [Viewed at National Archives, San Bruno, CA September 1982] Adams Co., Roll 186, Quincy, Ward 2 , p. 36, dwelling 253, household 270
Orson C. West, head, 43, b. NY, stock dealer, $3500, 2500
Catherine, wife, 43, b. OH
James, son, 18, b. MO, bookkeeper
Alfred, son, 13, b. IL
Pleasant, son, 11, b. MO
Charlie, son, 8, b. IL
Cora, dau, 5, b. IL
Opal, dau, 3, b. IL
7.U.S. 1880 Census, Missouri, NARA Microfilm, T9 [Viewed at Mid-Continent Public Library, Independence Missouri, 5 May 2002] Jackson Co., Roll, 692, Vol 16, Kansas City Ward 1, Sup Dist 6, Ed. 1, p. 18, East Levee, dwelling 117, household 127
O.C. West, white male, 52, merchant, b. OH [sic], father b. OH m. b.____
A.L. white male 22, divorced, clerk b. IL, father b OH mother b. OH
P.M., white male 20, son, clerk b. MO father and mother as above
C.O. white male, 18, son clerk, b. IL "
C.E. white female, 15, dau, b. IL "
O.R. white female 12, dau. b. IL "
D. Land
Johnson County, Iowa
1. Orson West was owner of record of sw 1/4 of sw 1/4 Sec 12, Twp 81N, R6W. See Family Group Sheet for Orson West.)
2. Quitclaim to John West from A.W. Blain, 8 June 1853 for 28 acres east side se 1/4 of sw 1/4 Sec 12, Twp 81N R6W, Book 10, p. 146.,/p>
3. Deed from John and Hannah West to Norman Calkin, 7 July 1854 for 28 ac east side se 1/4 of sw 1/4 Section 12 Twp 81N R6W, Book 11, p. 237.
4. Deed to John West from Sally Kinman 29 Dec 1859 for s 1/2 ne 1/4 sw 1/4 Sec 25, Twp 80 N, R6W (Newport)
E. PUBLISHED SOURCES
1. Index to History of Johnson County 1836-1882: John West as supervisor of Road Dist. In 1841; John West and H.H. Kerr layed out the town of "Solon" Oct 25-27 1840. Also John West and wife, original members of the Methodist Episcopal Church in Solon.
2.Biography: Sketch of Alfred Lynn West (son of Orson) Charles Davis McComish and Mrs. Rebecca T. Lambert, History of Colusa and Glenn Counties, Historical Record Company, Los Angeles, CA, 1918, p. 838. Indicates Alfred traveled to Chicago, Louisville, Kentucky and Carson City before settling in San Francisco in 1901 and later in Willows, Glenn County.

3. Newspaper: Orson C. West, Fractured leg, Napa Republican, 25 September 1896, 1:8 (photocopy Napa Public Library), mentions Orson lives on the Wakerly Place on Dry Creek Road.

4. Newspaper: J G. West, Knights of Pythias, Napa Daily Journal, 1 September 1898, 3:1. J.G. West, Chancellor Commander of Carson City, Nevada, will relocate to Napa, renting Peterson place of 43 acres.
5."History of Town of Solon," Solon Reaper, 28 July 1882, abstracted from History of Johnson County, Iowa, Iowa City 1883, rpt. (Unigraphic, Evansville IN, 1973): "The founder of Solon, as far as information can be ascertained, is one John West, who it is said laid out the first town proper of Solon in the year 1840/42."
F.MISCELLANEOUS COURT RECORDS
Iowa District Court Records 1839-1841, Iowa State Historical Society Box 2:
p. 93 May term 1841 Grand Jury includes John West 2d Jud. Dist.
p. 99 May Term 1841; I.C. Lasher vs. Jehiel Parks and John West to dismiss--plaintiff to recover costs. N.d.
p. 101 A.H. Frisbee vs John West 1 June 1841 $94.76 prom. Note + damages
p. 132 cont. Thomas Ford vs. John West. Mentions Jehiel and Harrison Parks.
G. UNPUBLISHED AND INTERNET SOURCES
1. Rootsweb World Connect, "The Eugene and Judith Whorton Henderson Family Tree":Hannah Stout ID145909 and John West ID 129666: states that Hannah and John West are buried at Sandtown Cemetery, Liberty Twp, near Hills, IA. Burial records to confirm this have not yet been found.
2. Mementos of Mrs. Henrietta Pattison of Quincy IL, mother-in-law of Pleasant Morris West who married her daughter Hettie Emeline. Includes letter written by Kate West and photos of Orson and Kate West and daughters Cora and Opal. These items are posted with the Pattison Family Tree at Ancestry.com and copies were provided by the author of the family tree, "hortonbhwy69".
3. Family Bible of Orson and Ella West; autograph albums of Ella West. Note to Ella from Opal West dated 1896 at Sugar Loaf, CO.