Pioneer Legacy:
Orringh Stone and Elizabeth Mabee
of Brighton, New York
© by Marilou West Ficklin, CG
5 Aug 2000
rev. 19 Apr 2001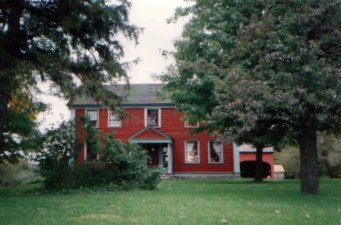 This version of the Stone family history was the winner of the National Genealogical Society (NGS) Family History Writing Contest for the Year 2000. A more complete version was accepted by the Board for Certification of Genealogists in 1999 to satisfy the requirments of "Certified Genealogist" conferred on author October 17, 2000. The longer narrative history is included in a discussion of westward expansion into western New York. (See long report.) after the Revolution. Both reports are available from the author. (See Ordering. )
---
A PREAMBLE:
A wayfaring Dutchman enters a rustic tavern at the edge of the Genesee wilderness in 1792. The robust young proprietor asks the visitor his name--and if he has a marriageable daughter? The Dutchman replies. "Mabee"
Like generations of pioneer farmers before him, Orringh Stone counted on raising many sons--a necessity at the frontier where a man had to tame the land, clear forests and defend against overwhelming natural and unnatural forces. Courtship might be thought of as an insupportable luxury so Orringh married the Dutchman's daughter, Leisje Mabee, without delay.[1]
Orringh, the son of a pioneer, who was a son of a pioneer, who was a son of a pioneer, and so on, did his best to perpetuate the family name. [2] Leisje bore nine children and died shortly after delivering the last, a boy who lived only a few months. Of the surviving eight children, only two were male--and one of those died young without issue. According to historians the other son disappeared into the Gold Rush of '49. They conclude:
"With Orringh's death on April 2, 1839, his branch of the Stone name was extinct in Brighton."[3]
A sad ending--made even more poignant by recent findings. Orringh's son Enos, the 49er, actually survived and returned to Brighton in old age and died there. He left no children--only a sparse list of chattels as his legacy:
"gold watch and chain, 2 chairs, old trunk, 2 razors/strop, hand bag, mattrass, pillow, old underwear, hose, photographs, memorandum books, two suits old clothing considerably worn and soiled, two pairs old pants, and one old overcoat, discolored by salt water."[4]
So ends the male line of Orringh Stone--but not the female...
Back to top
---
Photos of Stone-Tolan House. Click to enlarge.






Northfield
In the spring of 1790, Judge Enos Stone an investor from Lenox, Massachusetts came to the Genesee Valley wilderness where he had just purchased some frontier land.[5] His party drove oxen, cows, hogs and a few sheep past Utica to Lake Cayuga and then loaded their stock in two Durham Boats and continued by water for another treacherous four days.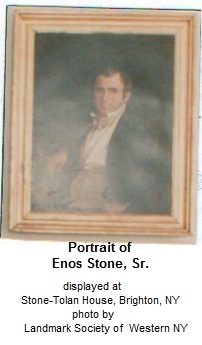 Satisfied at having stocked his land, Judge Stone returned to Lenox and persuaded his eldest son, Orringh, to follow his route west, take up the land and farm it.[6]
Betsy bore three more daughters, Olive, Malana and Elizabeth by 1804, while Orringh took a leadership role in the growing settlement. In 1805 he obtained $50 from a neighboring town and the help of four other men to dig a road four miles long and two rods wide from his farm to the river. He was rewarded with the office of Highway Commissioner.[12] In 1806 Betsy bore yet another daughter, Harriet. Then finally in the summer of 1808 she bore a son, Orringh Jr., followed by yet another son, Enos, in 1810.
During the War of 1812 the British Fleet on Lake Ontario harassed the Genesee settlements. To defend their property, Orringh's cousin, Isaac W. Stone, recruited and led a corps of volunteers, including Orringh (who served as a Colonel). The impromptu troops made an audacious, if artificial, show of force. The British Fleet, tricked by the ruse, retreated! [13]
Betsy Mabee Stone died in 1813. Orringh remarried within six months. Betsy's infant son died three days after Orringh's second marriage. [14]
Orringh's second wife, Sally West, produced two more daughters, Caroline and Eliza. By then the Stone's log cabin had been transformed into a modest two-story frame dwelling in the Federal Style. It continued to serve as tavern and prominent meeting place. The Town of Brighton formed at the Stone Tavern in 1814 as did the Brighton Presbyterian Church in 1817. Sally passed away in 1819. Orringh married a third time but had no more children. Orringh's eldest daughters had already reached adulthood and had married. Brighton was soon eclipsed by the emerging city of Rochester. The city attracted more celebrities--in 1825 General Lafayette visited the Stone's Tavern.[15]
Orringh entered his mature years with a legacy of accomplishment.
Tragedy struck one spring night in 1834 when Orringh's 26-year-old son, Orringh Jr., fell from the steamship Michigan on Lake Erie. It was weeks before his body washed ashore. During that time many feared he had been murdered. When the corpse was finally found at a place appropriately named, "Chagrin," Ohio, the young man's personal belongings and papers were found with him. This convinced Orringh and the authorities that Orringh Jr., had drowned by accident. He was buried in Brighton Cemetery with his mother and infant brother. [16]
Back to top
---
Northwest Migration
As early as 1825 pioneer settlers from the East had begun to infiltrate the southwest part of Michigan Territory. A road led through an outpost called, Niles and to the east shore of Lake Michigan. Soon a railroad reached Niles--as did Orringh's only remaining son, Enos.[17]
More settlers began to appear in Michigan in 1830, many having been granted patents to public land under legislation passed in 1824. A land rush in 1832 brought throngs of settlers including at least three of Orringh's daughters--Caroline, Malana and Olive. The pressure on the land and its native population threatened to spread the Blackhawk War into the Michigan settlements. Simultaneously a cholera epidemic swept the region and Orringh lost an infant grandson to it. Orringh's daughters survived all this and stayed on at the frontier. The only child to remain at home in Brighton was Harriet.
The Panic of 1837 resulted in widespread economic hardship in New York. Orringh Stone's estate and farm remained intact, but his family scattered. Orringh Stone died in 1839. The depression may have especially hurt Orringh's eldest daughter, Sally, and her husband. In his will Orringh cautions that none of Sally's inheritance was to be subject to the contract debts or liabilities of her husband, Enoch Hibbard.[18]
Enos Stone was the first of Orringh's children to give up his interest in the Brighton farm. The daughters began to sell off Orringh's land in the 1840s. In the end, only Harriet kept what remained of the farm, buying out the rest of the heirs. [19]She had recently married, but her husband died young and left Harriet to work the farm as best she could. Eventually she sold it to a family named "Tolan." [20] It is now on the Tour of Historic Homes, Rochester, New York, owned and managed by the Landmark Society of Western New York (LSWNY).[21]
---
---
References cited (Footnotes to original report):
[1] Margaret Schmitt MacNab, Katherine Wilcox Thompson, and Shirley Cox Husted, Northfield on the Genesee (Rochester NY: Monroe Co. Historian, 1981), [hereinafter Mac Nab, Northfield] pp. 23, 199. Folklore tells how a pioneer travelling with a circuit minister observed Liesje's sister doing the wash and married her on the spot.
return to text
[2] For the ancestry of Orringh Stone see "Descendants of Orringh Stone and Elizabeth Mabee," by author, August 5, 2000 as submitted to the Board for certification of Genealogists, in the category, Certified Genealogist. See also "Orringh Stone," in Mac Nab, Northfield, p. 305.
return to text
[3] Mac Nab, Northfield, p. 304
return to text
Photocopies of papers Enos Stone Estate File 1889-495, Monroe County Surrogate, Rochester, NY, Ltrs. Adm. Ref. in Book 9, p. 329-331 [hereinafter Enos Stone Estate].
return to text
[5] William McIntosh, History of Monroe County, New York (Philadelphia: Everts. Ensign & Everts, 1877), p. 423 [hereinafter, McIntosh, Hist. Monroe Co.] p. 423.
return to text
[6] McIntosh, Hist. Monroe Co. p. 424.
return to text
[7] Henry O'Reilly, Sketches of Rochester (1838; rpt. Geneseo: James Brunner, 1984) [hereinafter O'Reilly, Sketches] p. 247.
return to text
[8] "Reminiscences of Enos Stone," McIntosh, Hist. Monroe Co., p. 425-426.
return to text
[9] MacNab, Northfield, pp. 23, 199.
return to text
[10] West-Stone Bible Records (unpublished birth, marriage, death, 1735-1889) eight photocopies images of anonymous, handwritten vital records donated to the Landmark Society of Western New York [LSWNY]. The records of the families of Pelatiah West, Daniel West, and Orringh Stone appear in one hand and seem to be transcriptions. Later records for the familis of Orson West and Henry Knickerbocker appear in different handwriting and therefore robably were written at the time of the event. The records consist of names and dates, not places, [hereinafter West Family].
return to text
[11] Tengwall Scrapbook #3, March 24, 1924, Local History Div. Rundel Library, Rochester, NY, [Rundel 26] scrapbooks contain dated and undated clippings of early local newspaper articles.See also Mac Nab, Northfield, p. 304.
return to text
[12] "Northfield Records, Printed from the Originals," Mac Nab, Northfield, pp. 35; see also McIntosh, Hist. Monroe Co.NY, p. 428.
return to text
[13] Tengwall 3, n 11; see also Mac Nab, Northfield, pp. 69-73; McIntosh, Hist. Monroe Co. NY., pp. 517-519.
return to text
[14] Tombstones, Brighton Cemetery, Hoyt Place, Brighton, NY, author's photos, Lots 99 and 120, Sept. 17, 1999 (Tombstones appear to be quite old and are believed to have been placed at or near time of death; [hereinafter Brighton Cemetery]; see also West Family
return to text
[15] Tengwall 3
return to text
[16] Orringh Stone, Letter to Rochester Daily Democrat-microfilm [RDD] July 26, 1834, p. 2, col. 5; see also Brighton Cemetery; West Family.
return to text
[17] Mac Nab, Northfield, p. 304. These authors incorrectly state that Enos Stone died in California.
return to text
[18] Orringh Stone Will, referenced in Monroe Co. NY Index to Wills 2:707; photocopy of document from estate File 1839-43, Monroe County Surrogate, Rochester, NY [hereinafter Orringh Stone Will].
return to text
[19] Kevin Harrington, "Chain of Title for Stone-Tolan House," unpublished research report, LSWNY, 1966, [hereinafter Harrington, Chain of Title].
return to text
[20] Hans Finke, "Harriet Stone Hagaman," n.p., unpublished manuscript, 1998, Ontario County Records and Management Office, Canandaigua, NY [hereinafter, Finke, Hagaman].
return to text
[21] "The Stone-Tolan House", brochure for historic home, Rochester, NY, LSWNY.
return to text
---
---
Full Report
Descendancy report for three generations with children in the fourth generation.
Table of Contents
Illustrations
Complete citations for every item
A cross-reference to citations
Index
Topics for further research
West Family Bible (also available online)
Part of the narrative of the full report covers the parents of Oringh and Elizabeth. It can be viewed at Northwestern Frontier--two families...
To obtain the full report send a self-addressed, stamped envelope with 18 U.S. first class postage stamps to cover costs to:
Transcripts, 107 Carriage Lane, Grass Valley, CA 95949
Inquiries welcome: CONTACT HOST