BRYAN FAMILY OF NEW YORK
Attention: To see simultaneous references, open the Footnote Window
Or to view sources alone, go to Sources
Isaac Bryan (1776-1854) of Shecomeco and Rochester New York
Isaac was born in 1776 in Duchess County, New York to Ezra Bryan and Sarah Peck. Ezra descended from the Bryan family of Milford, Connecticut, the immigrant ancestor being Alexander Bryan born 1602 Aylesbury, Buckinghamshire, England. Richard Bryan, son of the immigrant, had distinguished himself in the shipping business in Connecticut and Long Island.1 His son, also named Richard, acquired land in Newtown, at the Connecticut frontier which was inherited by his heirs between 1708 and 1711.
Isaac's grandfather, Alexander (named for the immigrant ancestor), moved northwesterly to Newtown, Connecticut in the 1700's and took up land acquired by Richard Bryan, one of the original investors in Newtown. 2
Isaacs's father, Ezra, was born in 1740 in Newtown. (Ezra had married Sarah Peck and raised six children.) He was a Quaker and seems to have come to Duchess County during the Revolution. By trade he was a cabinet-maker specializing in coffins. He established a farm at Shecomeco.3 Some possibly conflicting information has been published about Ezra.
If you would like to see more about Ezra Bryan, follow these links

GO TO Ezra Bryan--patriot?
Isaac Bryan (1776-1854)
---
Isaac migrated north to Rensselaer County, New York, perhaps with brothers and cousins who carried on Ezra Bryan's fan mill manufacturing business. He remained there until the 1830's and then moved west to Rochester, New York.
His sons and daughters accompanied him to Rochester. Elisha N. Bryan engaged in the manufacture of fan mills--and grain cradles in Rochester and William W. Bryan was in the hardware business. 17
Reference to their business interests are shown in the personal correspondence of Isaac and Amos as well as on census data. 9
1810 Northeast,Duchess Co. NY, Isaac Briant [sic], shown with 3 males under 10, 1 male 16-26 and himself, plus 2 daughters under 10 and a female 26-45
1820 Pittstown, Rensselaer Co. NY, Isaac Bryant [sic], shown with 2 males under 10, 1 male under 16 and himself, plus 2 females under 10 and one female between 26 and 45. It shows 2 engaged in in manufacturing
1830 Schaghticoke, Rensselaer Co. NY, Isaac Bryan, himself (male 40-50) shown with 2 females under 10, one under 16 and one female 40-50.
1840 Rochester Ward 4, Monroe Co. NY, Isaac Bryan, one male 30-40 and himself (male 60-70), plus one female 15-20 and one female 60-70.
1850 Rochester Ward 7, Isaac (age 74) living with Phebe (27) and James Hair (35)
An Isaac Bryan is shown living with his son Elisha Bryan according to the Rochester City Directory of 1841. 6
Isaac became Street Inspector in 1835, Measurerof Wood in 1842, Pound Master in 1842, Weigher of Hay in 1844, and delegate to the State Temperance Convention in 1846. 23
His daughter Phebe married James Hair in Rochester in 1846. 4 Isaac's letters to his brother indicate his wife Sally was dying of Tuberculosis in 1849. Isaac is enumerated with Phebe and James in Ward 7 of Rochester in the 1850 census. Obvioulsy Sally died between 1849 and 1850. Phebe and James had a son, Isaac, born about 1847.9
Isaac died 25 June 1854 in Rochester. The funeral services were held at the James Hair home on Mt. Hope Avenue. 5 Isaac is buried at Mount Hope Cdmetery, Section K. 28 Isaac's obituary stated that he had been a resident of Rochester for twenty years. Phebe Hair, his daughter, died in 1862 28
Possible children of Isaac Bryan:
Elisha Bryan, born 1809, Duchess County NY, died 17 Dec 1888 in Rochester15
William W. Bryan, born 13 Nov 1811, married to Jane Viehl 21 Oct. 1837, died 5 August 1876, Rochester.
Phebe Bryan, born about 1823, married to James Hair about 21 Aug 1846, Rochester, died 1862. 4,28
From personal correspondence between Isaac and Amos Bryan 31:
Amanda Bryan, married _____Bolles/Bowles and went to California.
Sarah Bryan, married _____Leonard, and went to .
Laura Bryan, married ______Dibble, and went to Iowa
Harriet Bryan
Isaac stated in 1840s that four of his children had died, the youngest at 15.
---
---
Elisha Bryan (1809-1888)
son of Isaac Bryan
> Elisha was active in Rochester politics. He is mentioned in several newspaper articles in 1844 to 1848.8 He married Margaret Garrison of New Jersey 21 June 1851. He was Secretary of the Monroe County Temperence League in 1853. A son George was born in 1853 and son Frederick in 1855.7
William W. and Elisha Bryan went into business together opening a grain cradel and fan mill factory on Buffalo Street.10 In the City Directory of 1859 Isaac listed himself as Grain Cradle maker. The Bryan manufacturing business was located in the "Curtis Block." 10
The 1860 U.S. Census shows Elisha as head of a household that included William W. Bryan (Edge Tool Maker) and family -- in addition to Elisha's own wife and two sons. Elisha lists himself as "Poor Master."17
If you would like to see a discussion of William W.Bryan and the Bryans of Schaghticoke, follow this link.

GO TO Some Renssalaer Couny (NY) Bryans
When the Civil War broke out Elisha joined the 5th [sic] (1st) New York Artillery and served in Virginia.15. (See the The Civil War Archive Union Regimental Index. After the war he changed his party from Democrat to Republican and became a charter member of the Veterans of Union Gray.
In 1865 Elisha ran for Police Justice and won. He later became proprietor of the Rochester Hotel which burned down three times under his management. He served one term as CityAssessor for which he received an ebony cane with gold head. He served as Superintendent of the Truant House until it was abolished and two years as Collector at the Customs House. He and his wife lived in the Frankfort district across the river from downtown on Smith Street.10
His son George worked as a pressman with Horace Bryan--presumed to be a cousin. Horace's mother, Caroline ran a restaurant in the same building as the press. Caroline and her son lived with Elisha and his family at 14 Smith Street in 1870.11 . By 1880 she had opened a boarding house on East Main Street. 12
GO TO Bryans of Penfield
In March 1871 Elisha's wife margaret died.14 Two years later in April of 1875 Elisha retired from the bench and became Director of the Children's Home and the same year he married his second wife, Juliet Weaver. Elisha retired from public life and went to work as a street car conductor in the late '70's. Caroline Bryan opened a boarding house on East Main Street by 1880.
Tragically Elisha's eldest son, Frederick, fell from the roof of the almshouse and was killed. Elisha Bryan suffered a stroke at age 79 in 1888. He lingered a week before he passed away.
---
---
Later Bryans
George S. Bryan (1852 - 1917)>
George went to work as a machinist and married Fredericka Mailande.17 George and Fredericka's first son, George Harris Bryan was born 1 Aug 1881. The second son, Charlie, was born Jan 1883.17 George and his family lived on Fern Street near the Bryan factory buildings.15 AT age 37 he became foreman at his plant located at 330 Lyell Avenue on the west side of Rochester--the very location William W. Bryan had purchased seventy years before. 17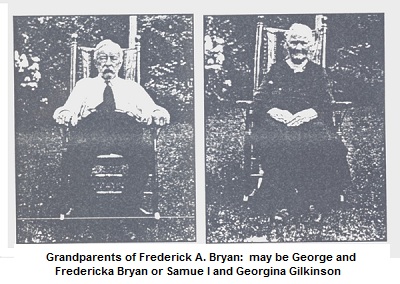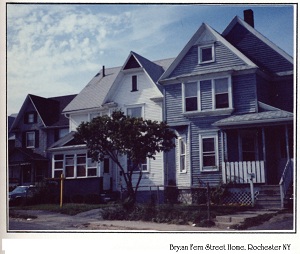 George Harris Bryan (1881 - 1960)
The son of George S. Bryan was George Harris Bryan. He went to work as a draftsman at the same plant as his father. George Harris Bryan married a neighbor girl named Mabel Gilkinson of New Jersey. He went to work for Gleason Works in Rochester and eventually became its Chief Operating Engineer. George and Mabel had only one son, Frederick Arthur.19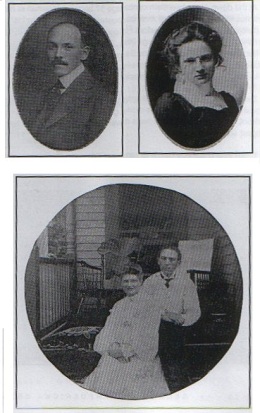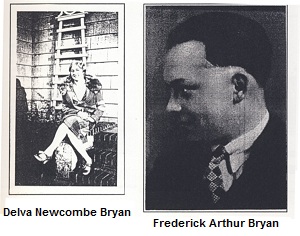 Frederick Arthur Bryan (1908 - 1977)
Fred graduated from the University of Rochester and obtained a Bachelors Degree in Chemical Engineering. He married Delva Newcombe 4 Oct 1931. Fred continued on at the University ot obtain his Medical Doctor degree. He received his MD in 1938 and joined the staff of Strong Memorial Hospital and the faculty of the medical school at the University of Rochester where he designed and built the blood plasma unit. During World War II Fred was one of the staff inducted into the U.S. Army to work on the top secret Manhattan Project at Oakridge Tennessee. Four days after the end of the war was named Man of the Week in Rochester. He took part in Atomic testing on Bekini and then returned to civilian life in 1947. He then joined the Atomic Energy Project at UCLA as Chief of the Industrial Medicine Division at the Medical School. He resided with his wife in Pacific Palisades until his death in 1976. His wife Delva died in 1979.19
To see the genealogy from Alexander to Frederick:
GO TO Genealogy
---

CENSUS

1900 U.S. Federal Census for New York, Monroe County
Rochester, Vol. 110, Sheet 19, Enum. Dist 96 Fern Street

Name			Relation	Birth Date/Place	       Age		
George Bryan		Head	        August 1852 New York 	        47	
	Fredericka	Wife		September 1862		        37
	George	Son			August 1880		        19
	Charles	Son			January 1883		        17
	Elizabeth Paulus		September 1863		        36
	Charles Paulus			July 1882			17
	Bert. Paulus			May 1886			 4
	Laura Paulus			May 1886			 4


1860 U.S. Federal Census for New York, Monroe County
Rochester, Second Ward

Name			Sex		Age	Birthplace		
Elisha Byron		Male		50 	NY	[Poor Master]
	Margaret	Fem		38	NJ
	George S.	Male		 7	NY
	Frederick	Male		 5	NY
	William		Male		48	NY	[Edge Tools]
	Jane		Fem		38	
	Platt		Male		20	NY	[Bookkeeper]

Rochester, First Ward
Horace Bryan		Male		38	NY	[Dry Goods Clerk]
	Caroline	Fem		33
	Horace		Male		 4
	Frank		Male		30
	Elizabeth	Fem		24