Georgia and the Cherokee Nation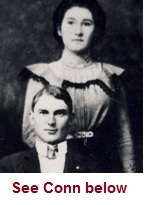 Migration from the Carolinas
MIGRATION FROM THE CAROLINAS TO GEORGIA
Cherokee and Creek Lands
Traders in 1773 claimed that Creeks and Cherokees owed them $200,000 so King George of England purchased a large tract of Georgia land bordering the Old-Ninety Six District of South Carolina and paid the Creek and Cherokee debts out of the proceeds. Wilkes County, created in 1777, drew wealthy Virginia cavaliers loyal to the the King. Soon Scots-Irish of North Carolina--fierce patriots-- moved into Wilkes County and battled the loyalists. Although the British subdued most of Georgia, Wilkes County held out. However many Georgia patriots were forced to flee.
After the war Elbert County was created from the north of Wilkes County. Some of the earliest residents had come across the river at the Cherokee Ford from Edgefield, South Carolina.1
Beyond the easternmost part of Georgia the land still was held by the Cherokee and Creek. After the Revolution the Cherokee were once again threatened with the loss of their land in the watershed of the Tennessee and Hiwassee along the western slope of the Great Smokey Mountains. Judge Richard Henderson [See Colonial Kentucky] who had bought Kentucky from them on the promise that the remaining Cherokee lands would be inviolate from that day forward--died in 1785. That very year the new United States imposed an agreement on the Cherokee, the "Hopewell Treaty," which again guaranteed the Cherokee Nation sovereignty over their land in Tennessee and Georgia.
By 1789 the Cherokee were pressured into ceding more land, and in 1790 the Creeks were forced to cede more of their land as well. Northeastern Georgia was divided up and Franklin County was created in 1790. Jackson county was broken off in 1796.
HEADRIGHT GRANTS
The first headright grants were given out as bounty land for service in the Revolution.2 The State of Georgia administered these grants in south Franklin County and north Washington county.3 A private in the Georgia Line would get 230 acres; a private in the Georgia militia would get 289.5 acres. A soldier called a "refugee" was one who had fled Georgia and then served from another state when the British "reimposed Royal authority" in Georgia in 1781.
Judge Richard Henderson's settlement had opened the door for rampant migration following the end of the Revolution. For 200 years the Cherokee had negotiated with the Anglo, had done business with him and had fought with and for him. While the new government craved the Cherokee's land, there were some within the new government that felt some token of good will, a supportive gesture, was necessary to improve the new nation's image.
Cherokee--Model Nation
So the Cherokee were made the model 'nation.' Funds were appropriated to provide it with agricultural assistance and training. Tools, seed and instruction were distributed. At first the Cherokee men ignored the help, but the Cherokee women, a powerful force within the Nation, took advantage of the opportunity and adopted the white man's agriculture so successfully that soon the men went along with it too. The villages flourished. They built houses of lumber and brick and developed large farms. Some of the farms became plantations and were worked by black slaves bought by the more prosperous Cherokee.
Some families assimilated thoroughly into the white people's way of life. Intermarriage between Cherokee women and white men was commonplace.
In 1803 President Thomas Jefferson purchased Louisiana from the French Emperor Napoleon for $15,000,000 and in so doing more than doubled the size of the U.S. The Territory of Mississippi was extended all the way to Tennessee the following year.
LAND LOTTERIES
The federal government wanted to build a major road between Knoxville, Tennessee and Savannah, Georgia. The Cherokee Nation ceded a right of way and agreed to build a portion of road that passed through their land. In exchanage they were permitted to collect tolls and operate ferries on those parts that crossed rivers. The road augmented the flow of settlers into Georgia only adding to the pressure to divest the Cherokee of their land.
The first State lottery to sell Cherokee and Creek land to settlers was held in 1805. The land was available to anyone who had been a resident of Georgia for three years and was issued on the basis of family size. 4
In the War of 1812 the Creek sided with the British and the Cherokee with the U.S. Government. Constantly fighting squatting settlers, the Cherokee were now fighting the Creeks as well. In 1814 Andrew Jackson swept through the territory and vanquished the Creek Nation forcing them to cede 1,500,000 acres in Alabama Territory.
The land was put up for sale in another land lottery in 1820. Gwinnet County, Georgia, was officially formed from Jackson in 1818. It was divided into four districts.
Squatters settled on land all over Cherokee Nation. This was strictly illegal and the goverment attempted to protect the Cherokee's legal rights to the land. A squatter could legalize his claim by marrying a Cherokee--or leave the territory. There was a sudden upswing in marriages between whites and Cherokee. Then John C. Calhoun, Secretary of War, ordered Andrew Jackson to march from Chattanooga to Augusta to remove squatters from Cherokee land.
Still the farms of Cherokee, as well as that of mixed families, lay in the path of settlement. Settlers pushing west coveted the Cherokee land and systematically set about to drive the Cherokee out. One more lottery was yet to come.
Land Fraud
Land acquisition had become epidemic and had fostered many frauds and scams. The biggest was called the Yazoo Land Fraud in which worthless certificates for huge amounts of western land had been sold to unsuspecting settlers. To remedy the problem the U.S. government negotiated with the State of Georgia to give up its claim to the Alabama and Mississippi Territory. Georgia agreed upon condition that all Indians be removed from within its borders. The U.S. agreed. The removal would take place over a period of years culminating in the infamous 'Trail of Tears--' removal of Cherokee from their lands.
CHEROKEE REMOVAL
There were legal obligations to the Cherokee to be considered. Local authorities and politicians attempted to nullify the Cherokee title to their land. A great campaign was launched at many levels to remove the native people to the lands west of the Mississippi. The cherokee Nation itself was divided on the issue. The chief, John Ross, who was only part Cherokee, led the group opposed to removal; Major Ridge, who had sent his son to Princeton, led those in favor. Under pressure from the State of Georgia, Andrew Jackson signed the Indian Removal Act in 1830. It passed by just one vote in Congress. Land in the gold region and in the heart of the Cherokee Nation was put up for sale in the Lottery of 1832.5 Many of the Cherokee families, mixed as well as full, could see their future in their homeland fading away and began to look to the west.
Then in 1835 State leaders approached Ridge and his pro-removal group to pressure them into signing a treaty agreeing to give up their land and leave Georgia in exchange for $5,000,000 and 7,000,000 acres of land in the west. The last Tribal Council was called in October 1835. The parties were still divided. A meeting was scheduled for December 15 at New Echota to sign the treaty. The meeting extended over many days and was boycotted by most of the anti-removal people. Of the 600 who attended, less than half were full bloods. A committee was appointed to review the treaty. The committee, by voice vote, recommended approval. When the general council convened, only 100 out of 8600 Cherokees attended. The treaty was accepted without a single dissenting voice and signed at 1:50 am December 29, 1835.
Word spread through Cherokee Nation of the action by the pro-removal group causing great indignation. Violence broke out. John Ross's anti-removal group went throughout the territory and collected as many as 16,000 signatures opposing and nullifying the action. They took their case to Washington and presented it before the Supreme court. Justice John Marshall acknowledged that the Cherokee Nation was entitled to autonomy as a domestic dependent nation. President Andrew Jackson's response was terse: "John Marshall has made his decision--let him enforce it!" Jackson signed Order 34 setting the date of removal for May 24, 1832.
Two thousand Cherokee left unescorted and voluntarily before 1838. The remainder were removed from their homes on May 24 and put into a camp for the summer. Conditions were horrible and there was much sickness. The former homes were looted. General Scott was assigned to lead 7,000 soldiers to escort the 16,000 Cherokee west. The massive body was set on the road in 1838 and walked 1200 miles to the new Indian Territory. Many were robbed, raped and murdered. Four thousand died on the Trail of Tears.
---
---
---
THREE FAMILIES WITH POSSSIBLE CHEROKEE ORIGINS
Conn, Coleman, Henderson
The above context is provided as background to the following family histories. This family group is believed to consist of mixed white and Cherokee families who originated in North and South Carolina and moved into Georgia during or just after the Revolution. From there it appears they migrated west as a group before or during the Cherokee removal --though not as part of the Trail of Tears. These families were the ancestors of Sanders Alexander Conn (1881-1951) and Luevena Ella Coleman (1882-1925).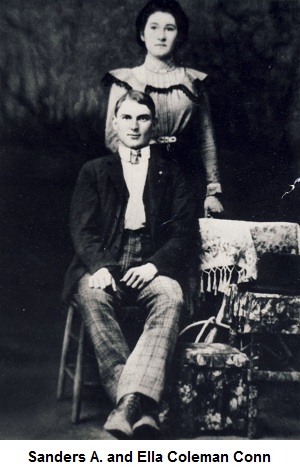 Conn
Return to Menu
Among the recipients of the headright grants, were four brothers from Tryon County, in southwest North Carolina and the Pendleton District of northwest, South Carolina. Each obtained a grant and came to Georgia. Their names were Samuel, Joseph, John and Thomas Conn. According to one family historian Thomas Conn died early and left his portion to five orphans.6
.
Franklin County probate records show that a John Conn died in Franklin County in 1801. His will mentions wife, Eliza/Elizabeth, and five sons: Simon, Samuel, John, Thomas, and Isaac Conn; it mentions daughters Caty (Martin) Peggy (Murphy), Jane, Mary, and Agnes. A 1793 deed in Pendleton County SC for John Conn was witnessed by Simon Conn. 7 Therefore it appears these Conns might have previously resided in an area straddling the North and South Carolina border.
John, Thomas, and Samuel Conn were residents of Franklin County when they registered for the 1805 Georgia Land Lottery. Only Samuel succeeded in obtaining a lot. John, Thomas and Samuel Conn were on the tax rolls for Franklin County from 1806-1810; Isaac, Sanders and William Conn on the rolls of 1818.
As the state of Georgia grew, county boundaries were adjusted and new counties formed. Jackson County was formed from Franklin and Gwinnette County was partly formed from Jackson. Cherokee County formed from Gwinette. The Conns of Franklin County appear in the records of all these counties over the years between 1805 and 1832. In some cases they did not move, the boundardies did.
The early records of Franklin County (and its spin-off, Jackson County) reveal various individuals with the surnames Conn and Coleman. (See listings of Conns and Colemans in Franklin County land records.)
One of these, Samuel Conn, may have later acquired land in Cherokee County when it was formed in 1832. The names Conn, Coleman, Henderson, Rogers, Sanders, Bird and Dean are found among known Cherokee in the vicinity of Coosawattee Old Town in the heart of what became Cherokee County in 1832.
A local historian claims that Samuel Conn came from North Carolina in the early '30s and traded a pony for a large tract of land from the Indians at Upper Etowah. The land became the "Conn's Creek District."8
The disposition of that land in 1874 is discussed below. However in the U.S. Census for Cherokee County, 1860, Samuel's birth place is shown as Georgia.9
The relationships between these various men are not certain. This discussion focuses on only one of these families: that of William Conn (1795-__) and his possible relationship to Samuel Conn (1809-1874). It has been suggested by oral history that both were Cherokee--or part Cherokee.
William Conn--obtained land in the Creek Cession and moved his family to Benton County, AL about 1832. (A William Conn--not necessarly the same person--also obtained a gold lot in the Lottery of 1832.) His sons were Isaac S. and John D. Conn; his daughter, Mary A. Conn.
> Most descendants of Isaac S. Conn agree that William Conn was the father of Isaac. (William and Isaac)
Samuel Conn--obtained land in Cherokee County Section 2, District 3 in the heart of Cherokee Nation. (Section 2 was reserved for former residents of North Carolina.) His estate probated in 1874 shows that he had a son, James Madison Conn.10 The marriage of James M. Conn to Nancy E. Pierce is recorded in McLennan County, TX, marriage records in 1869.11 At the same time, Isaac S. Conn is found living in McLennan County 12 and his son and brother-in-law were members of the Bosque Baptist Church of Christ near Waco where James Madison Conn was married.13 This suggests (but does not prove) some kind of family relationship.
Follow this link to The descendants of William Conn and Samuel Conn.
---
Coleman
Return to Menu
Hezekiah Coleman is said to have been Cherokee. He filed an application for compensation under the Guion-Miller Rolls of Eastern Cherokee. 14
According to the widow's pension application, sworn before the clerk of Chancery Court, Fulton, Itawamba County, Mississippi, July 11, 1873, Hezekiah was born May 22, 1785. Union County, South Carolina. He married Elizabeth Ballou/Bellew 20 March 1811 in Union County. He was drafted into the War of 1812 from Jackson County, Georgia in 1814. It is presumed therefore that his wife and family accompanied him to Georgia at that time. He served in the Company of Capt. John Walters/Waters in the Georgia Infantry, in Col. Booth's 4th Regiment and was discharged in 1815. He applied for Bounty Land Warrant No. 17998 for 80 acres. He sold the land. His wife applied again for bounty land under the Act of March 3, 1855 and made application for a widows pension.
Some unpublished family histories claim Hezekiah was the son of Abner Coleman born about 1755 in Virginia, and that Abner was the son of Robert Coleman born about 1717 in Amelia County, Virginia who died in 1783, in Union County, South Carolina. This Robert is said to have been the son of William Coleman born about 1673.These Colemans are documented briefly in the work of J.P. Coleman, "The Robert Colemans of Virginia and Texas," which is available free online. 15
In her pension application Elizabeth Belew Coleman states she was born Mar 1, 1793. Her son Daniel Coleman gave sworn statement July 11, 1873 before Chancery Court, Itawamba County, Mississippi. He listed fourteen children of Hezekiah and Elizabeth.
Hezekiah and Elizabeth acquired land in Jackson County, Georgia--perhaps in the portion taken from Franklin County. ( See Franklin County land records.) In the 1830s they migrated west to Benton County, Alabama in the Creek Cession lands. Shortly thereafter they relocated to Itawamba, Mississippi near the time of the Cherokee Removal.
One of Hezekiah's daughters, Docia, married Isaac Conn (described under Conn above). Hezekiah's son, Bird, married William Conn's daughter, Sarah. Bird accompanied Isaac and Docia--and the Conn family--in their westward trek to Arkansas and Texas. The marriages of Isaac Conn to Docia Coleman and Bird Coleman to Sarah Conn took place in Benton County, AL.16Descendants of both William Conn and Samuel Conn ended up at the turn of the 20th century in Chickasaw Nation in Indian Territory and from there settled in Oklahoma.
Follow the link to The descendants of Hezekiah Coleman
Docia's grandson, Sanders Conn (son of William H. Conn), married Luevina Coleman in 1903 in Oklahoma. She was the daughter of Frank Marion Coleman who was born in Georgia in 1851. Her mother, Susan Henderson Rogers, was said to be Cherokee. Her mother was born in Marshall County, MS not far from Tippah County where Isaac and William Conn and Bird Coleman lived. Susan Henderson Rogers may have been part of the group migration and was related--at least indirectly--to the above Conns and Colemans. No proof has yet been found.
Frank Marion Coleman was born in Georgia in 1851 to Jarret Coleman. Jarret was born in 1819 in South Carolina and as such was a relative late-comer to Georgia. Nevertheless there are hints that he may be indirectly related to Hezekiah Coleman. Jarret's father probably settled in Cobb Co. Georgia for Jarrett spent his life in nortwestern Georgia. Frank Marion Coleman accompanied his older brother, Robert, west to Arkansas and from there went to Texas where he met and married Susan Henderson. [See the Hendersons, below.]
---
Henderson
Return to Menu
The ancestry of Susan Henderson may help provide more evidence of a group migration of Cherokee Colemans and Conns to Texas.
After the Revolution the southern part of Old Ninety Six (South Carolina) had became Edgefield County and the northern part, Abbieville. The Hendersons, who lived near the border of Edgefield and Abbieville Counties, went across the river at the Cherokee Ford into Wilkes/Elbert County, Georgia on the north. They settled on both sides of the River and John Henderson was awarded one of the first headright grants in Elbert County when it was formed in 1791.
It is suspected that James Henderson of Edgefield County migrated to Alabama where a son also named James was born in 1823. These migrated to Marshall County MS.17 James married Nancy Dean in 1848 and in 1849 they had their first child, Martha. In 1855 Susan was born. ("Dean" was a common surname among the Cherokee of Gwinette and Cherokee County, Georgia.)
Susan Henderson married William C. Rogers in 1875. He died shortly thereafter leaving Susan with a young son. She then went to Texas with her married sister Mary Henderson Crumwell.Susan married for a second time in Texas to Frank Marion Coleman.She died in 1915; Frank died in 1916.
Follow the link to The descendants of James Henderson and Jarrett Coleman
---
---
FRANKLIN COUNTY LAND RECORDS
Headright and Bounty Grants in Franklin County [See footnotes: 2]
Susannah Coleman Bk. NNN:214 850 ac 1787
John Coleman Bk. TTT:490.4911, 450 ac, 1790
Eden Coleman Bk. AAAA:9, 930 ac 1793
John Coleman AAAA:12, 460 ac, 1793
John Coleman AAAA:10.11, 1460 ac, 1793
Richard Coleman Bk.L.5:588, 441 ac. 1817
Selected Franklin County Deeds
Deeds of Franklin Co. GA 1784-1826, Martha Walters Acker, 1976.
Deed, Eliza., John, Isaac, Thomas,Isaac to Samuel Header, 100 ac in Franklin County on Webb Creek (both sides), 21 Dec, 1818, recorded Bk B: 123
Deed, Samuel Conn of Franklin County to Edmund Kerr Jr., 490 ac, lot 11, Dist 3, land of Thomas Conn, Webb Creek, adjacent to Indian Territory drawn in lottery and granted 1813. Recored 29 March 1814 Bk HH: 44.
Deed, Bird Coleman of Elbert Co. GA from Walter Nunely of Elbert Co. , 200 ac. in Franklin Co. on North Fork Broad River, recorded 19 Oct 1819 in Bk B:44
Deed, John Coleman and wife Polly of Elbert Co. GA to Cutbird Hudson, 250 ac, on Colemans Creek, Franklin Co. on the Broad R. Wits: Thomas Coleman, John Turman, James Tate, Recorded 20 Jan 1791, Bk KK:68.68B.
Deed, Isaac Conn (soldier in U.S. army) to Robert Cochrane, 160 ac. military bound land in Indian Territory, recorded 10 Oct 1818, Bk HHH:71,72.
Headright and Bounty Grants in Jackson County
John Coleman Bk F.5:124, 457 ac, 1805
Hezekiah Coleman Bk K.5:804, 113.5 ac, 1816 [bounty for service in War 1812?]
1805 Land Lottery in Jackson County R4
Registered:
Abel Coleman
John Coleman
Eliza Conn, widow
John Conn
Samuel Conn
Thomas Conn
Obtained land:
John Coleman
Samuel Conn
1820 Lottery:
Richard Coleman
Sanders Conn
Tax Lists for Franklin County
John Conn 1806, 1808, 1810, 1818
Thomas Conn 1806. 1807, 1808, 1811, 1818
Samuel Conn 1807, 1808, 1810, 1819
Isaac Conn 1810, 1811, 1818
Sanders Conn 1818, 1819
William Conn 1818, 1819
John Coleman 1802, 1807, 1818
Richard Coleman 1812
Abel Coleman 1802, 1803, 1806
---
---
---
---
FOOTNOTES
1. John H. McIntosh, History of Elbert County, GA 1790-1935 (Atlanta: Cherokee Publishing Co., 1968) back
2. Rev. Silas Emmet Lucas, Jr., The Headright and Bounty Grants of Georgia, 1756-1909 (Vidalia, GA: Georgia Genealogy Reprints, 1970).back
3.Lloyd DeWitt Bockstruck, Revolutionary War Bounty Land Grants Awarded by States, (Baltimore: Genealogical Publishing Co., 1996) back
4. Virginia S and Ralph V. Wood 1805 Land Lottery (Cambridge, MA: The Greewood Press, 1964) back
5. James F. Smith, Cherokee Land Lottery, 1832, (Baltimore:Genealogical Publishing Co., 1969). back
6. Mrs. Cooper H. Conn and Dale N. Brooke, Conn History and Genealogy, 1987.back
7. Will of John Conn, in Franklin county, Georgia Records,(Albany, GA). (Will proved 4 Feb 1801, wit. Wm. Hamilton, Samuel, Jackson, Fred. Beall). See also Pendleton District, SC, Deed to John Conn 14 Oct 1793 wit. Simon Conn. back.
8. Rev. Lloyd A. Martin, History of Cherokee County (Atlanta, GA: Walter W. Brown Publishing Co., 1932. back
9. 1860 Federal Census, Georgia, Cherokee County, at "Conn's Creek", NARA M 653, Roll, 116, P. 750, Post office: Ball Ground back
10. Heirs of Samuel Conn Dec'd to Rodney F. Holcomb, 5 Mar 1874, Deed to Sec 2, Dist 3, recorded in Cherokee County, GA Deeds Vol. V, p. 138. Administrators: Allen C. and James M. Conn. Mentions wife, Elizabeth and land of A.K. Conn, Rodney F. Holcomb, son-in-law. Attorney Randal McDonald. Several lots on the river with timber. (District 3 was in the Coosawattee District, the center of Cherokee Nation.)back
11. McLennan County, TX Marriage Records, Vol 1 1850-1870, Central Texas Genealogical Society, Waco Public Library. Marriage 127, J.M. Conn to N.E. Pierce, 18 Jun 1860. See also membership rolls, Bosque Baptist church, 6 miles north of Waco, August 6, 1870: W.H. Conn and Bird Coleman. back
12. 1870 U.S. Census, McLennan County, TX, West of the Brazos, p. 157, Dwell. 747 William [H] Conn; Dwell. 748 Isaac [S.]; Dwell. 750 James Pierce [husband of Isaac's daughter Catherine]; Dwell. 751 Bird Coleman [husband of Isaac's daughter, Sarah]. back
13. Membership rolls, Bosque Baptist church, 6 miles north of Waco, August 6, 1870: W.H. Conn and Bird Coleman. back
14. Application Guion Miller Rolls, Eastern Cherokee #44808--Guion Miller Roll of Rejected Applications. Application made by Benjamin Franklin Coleman, grandson of Hezekiah Coleman (b. 1864 Itawamba, MS) May 1908 Durant, OK, Special Comm Court of Claims Wash DC, in accorance with decress of Court of Claims May 18 1905, May 28 1906. The Indian name is given as "Blue" perhaps derived from Hezekiah's wife's surname, "Ballou/Belleu." Jo Ann Curls Page,Extracts of Rejected Applications of the Guion Miller Rolls of the Eastern Cherokee, Vol. 3 (Bowie MD: Heritage Books, 2003) pp, 59,74.back
15. The Robert Colemans Virginia to Texas (free online), eg. Chap. 21:268 and Chap.5:66 back
16. Marriage Records 1834-1850 Benton County, Alabama, ed. and comp. by Cathrine Cleek Mann (Gadsden, AL: Northeastern Alabama Genealogical Society, Inc., 1976) back
17. 1850 U.S. Census Marshall County MS, Northern Div., p. 286a, James Henderson b. 1823; also p. 248B, James Henderson b. 1803 b. SC; wife Rebecca b. 1804 TN, and 4 adult children. back
---
---
NOTES
William Conn and Isaac S Conn --Proof.The 1840 census of Benton County, AL, shows William Conn as a male aged 40-50. Isaac Conn is listed as a male aged 20-30. The 1860 Census for Sevier county, Arkansas shows a William Conn age 65 born in Georgia and Isaac Conn age 42 born in Georgia. This merely suggests a possible father-son relationship. Proof is found partly in the 1860 Census of Sevier Co. AR showing that William had a daughter named Mary (born about 1835) and Isaac had a son Pinkney (born about 1850.10 The other part of the proof is found in the 1900 census Pottawatomie Co. OK 17 showing Mary as Pinkney's aunt. Therefore if Mary is daughter of William, and Pinkney is son of Isaac, and Mary is aunt of Pinkney: it follows that Isaac is Mary's brother and that both Isaac and Mary are children of William. Back to Isaac S. Conn
Alexander Sanders of Cherokee Nation. During the Revolution a Virginia Loyalist, Michael Sanders, fled to the Cossawatie District of the new Cherokee settlement and established a home at Talking Rock. He married a full-blood Cherokee, Susannah,of the Bird clan. They had four sons, the second was Alexander, born in 1777. He married a full-blood Cherokee,Peggy Somcooie. Alexander achieved fame fighting to drive illegal settlers off Cherokee land. He lead a raid on six white settlers who had encroached on Cherokee land and burned their cabins. These Sanders were wealthy land and slave owners and were prominent in fighting U.S. Government land and Cherokee removal policy. Back to Sanders Alexander Conn