Samuel V. Calhoun of Beaver County, PA
and
Verlinda Dawson of, Columbiana County, OH
Family Group Sheets:
Migration West: Samuel Calhoun and Verlinda Dawson
Calhoun Ancestors: NEW: Detailed Report On Johnston Calhoun in PDF format
Dawson Ancestors:
NEW: Detailed Report on JOHNSTON CALHOUN in PDF format
(huge file) lots of document images--probate, deeds, census.
If you have a related family with Ulster ancestry, SEND ME AN EMAIL--PLEASE.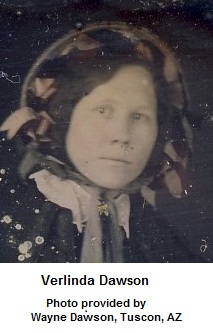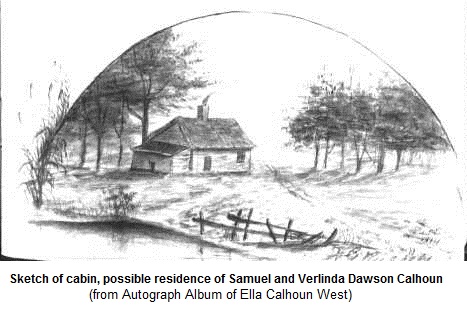 Samuel Calhoun and Verlinda Dawson
Dawsons to Illinois and Iowa
Samuel and Verlinda Dawson Calhoun lived in Calcutta, OH from their marriage in 1859 until the birth of their daughters Mary Caroline in 1861 and daughter, Ella in 1862.

They migrated then to Bloomington/El Paso, Illinois where their daughter Eva Jane was born in 1865. They stayed in Illinois into the 1870s.

It appears that Verlinda's brother, William Adelma Dawson, followed her to Illinois for his first children were also born in El Paso.


Dawsons to Kansas and Missouri
Verlinda died in Wichita in 1879 after which Samuel appears to have migrated to Rich Hill, Missouri. Daughter's Ella and Mary lived in Wellington, Kansas where Ella taught school. Samuel may have also lived in Wellington for a while. It is likely the family home was in Rich Hill through the 1890s after which Ella went to Colorado and then Texas for a brief period, returning to live in Kansas City.
Migration West: Siblings
There is some evidence of a group migration westward--if not all together at once, at least over time.

Verlinda's brother, Benjamin Mackall Dawson, went first to Iowa, and then to the region near the Kansas-Missouri border.
Dawsons to Colorado
Verlinda's sister, Nancy Dawson Hart went west to Boulder, Colorado. Later Benjamin Mackall, Jr. also went to Boulder as did Virlinda's daughter Ella. Most settled at Sugarloaf outside Boulder. Those who remained in Stanley (Johnson County KS) -- those who returned to Kansas City--stayed in contact. Letters written by Verlinda's grandson, Fred V. West substantiate this contact well into the 1920's.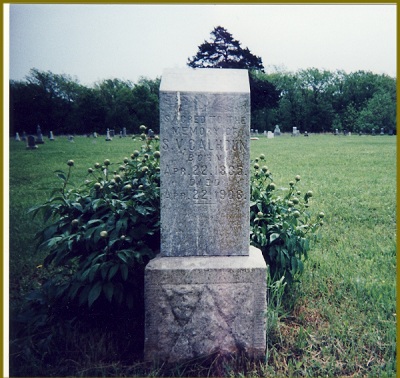 Grave of Samuel V. Calhoun, Rich Hill, MO
(Photograph by Marilou West Ficklin 2001)
Origins of some Pennsylvania Colquohouns/Calhouns from Ulster.
The Calhoun family derives from a Scots clan called "Colquohoun." Numbers of them emigrated from Scotland to Donegal, Ulster in the early 1600s when the McGregors of Lake Katrine massacred them at Loch Lomond. Sir Walter Scott memorialized the Colquohoun tragedy in his epic poem, Lady of the Lake.
James Stuart, James VI of Scotland became James I, King of England in 1603. By royal mandate, only Protestants could buy land or govern in Ulster so James began to hand out Ulster land to the Scottish clans. Taking pity on the Colquohouns he gave them plantations near Letterkenny in Donegal.

In 1642 Puritans in England revolted against the Crown. Oliver Cromwell established the Protectorate and ordered Charles I beheaded. Eventually the Protectorate failed and the Monarchy returned to England with Charles II, another Protestant, followed by James II, a Catholic. Protestant England forced James' abdication in 1688. James was succeeded by Queen Mary and her husband, William of Orange, both Protestants. James fled to Ireland where he led the Irish of the South in their struggle to reclaim all of Ireland. In 1689 the new authorities blockaded the city of Derry, called by the Ulster people "Londonderry." They held the city under siege until liberated by William's forces. In 1690 the English landed at Cork, home of the famed Blarney Castle in the South of Ireland, and went on to subdue James' forces at the Battle of Boyne.
A Beaver County Legend and John C. Calhoun.
The legend traces the ancestry of Samuel's grandfather from the Battle of the Boyne to John C. Calhoun (Vice-President under Jackson.) Referring to the family of Johnston Calhoun, the legend states:
The progenitor of this family was Gloud or Thaddeus Calhoun, of Ireland, who married a sister of Lord Blaney, at Blaney's Castle (now called Blarney). His son William married a Miss Sprowl, a daughter of Jane Johnston, who escaped the siege of Derry by hiding in a potato furrow....William had a son Johnston and a daughter Jane. Jane married a distant relation in Ireland, named Samuel Calhoun. They came to America and settled in South Carolina. The great statesman, John C. Calhoun, was their son. Johnston also came to America in 1790, in the brig 'Cunningham,' and landed in Philadelphia. He lived three years in "Kennigojig, Pa.," then went to Washington county and rented a farm where the Washington County Home now stands. He sold provisions to the government troops commanded by George Washington, when he was sent to quell the whisky insurrection. In 1800 he bought over 300 acres of land at Mill Creek....
Johnston's legend lived long enough to be published once by Warner in 1888 and republished in 1969 by a Pittsburgh Doctor named John Calhoun Ewing. Compared to this frivolous story, the facts relating to Johnston's ancestry are rather meager. The obvious discrepancies are shown in bold above.

Actual records show that a William Colquohoun rode for William to the Siege of Derry and that a Charles Colquohoun of Letterkenny supported the Ulster cause. James' authorities arrested Charles for High Treason.

The first discrepancy in the legend: Would an Ulsterman marry the sister of an Irish nobleman at Blarney Castle in Cork? Ulster records show that some English "Blayneys" acquired estates in County Monaghan in the North where they named their estate, "Blaneycastle" or "Castleblaney." It is likely the marriage took place there rather than in the south at Blarney Castle. Many published genealogies mention a "William Campbell Colquohoun of Corkey". Possibly the place "Corkey" (Corkagh) was confused with County "Cork" in the south.

Most Colquohoun researchers show that the Colquohoun branch in Letterkenny (Donegal County) that served with William of Orange were the descendants of Adam Colquohoun born about 1621 who died at Corkagh in 1650. His son Robert married a MacAuselan and their sons included William Campbell and Charles Colquohoun who served with William of Orange and were the ancestors of many prominent emigrants to America.

The above William Campbell Colquohoun is said to be the grandfather of James Patrick Calhoun who came to Pennsylvania and settled at a place called "Chestnut Level". He was also the father of a Hugh Calhoun who settled in East Pennsboro, Cumberland County, Pennsylvania. William's brother, Charles (of Letterkenny), was the grandfather of a John Calhoun who also settled at East Pennsboro. Many of these went to Western Pennsylvania when it opened for settlemlent. In the meantime many of the Chestnut Level Calhouns went to Virginia and then to North and South Carolina. This included the forebears of John C. Calhoun.
John C. Calhoun and the Colquohoun Migration to South Carolina
Scotland unified with England in 1703 creating Great Britain. Restrictive economic policies strangled all of Ireland. Life for the Irish and Scots-Irish alike became unbearable. William Penn had recently acquired land for a new colony he called Pennsylvania. He began to recruit oppressed parties from the continent desperate to escape intolerable religious, economic and political persecution. Penn came to Ulster and found many of the dissatisfied Scots financially able and ready to emigrate.

Ships sailed into ports on Delaware Bay like Philadelphia and New Castle. Three initial counties had been created in Penn's Colony. Philadelphia was the staging area for settlers headed for the frontier. German settlers penetrated inland to the Susquehanna River in the first decade of the 1700s and some Yorkshire English set up a trading post for the fur trade in 1720.

The Caldwell family, possibly with associated Colquohouns, landed at New Castle in 1727 and migrated inland to Lancaster, Pennsylvania. The ancestors of John C. Calhoun arrived in 1733 at Philadelphia and also settled in Lancaster County at Chestnut Level near the Susquehanna. (Port officials recorded the name Colquohoun as pronounced, Calhoun, Colhoun or Cahoon.)
br> Lancaster land speculators began to offer land in the Shenandoah Valley of Virginia. When James Patrick Calhoundied in Pennsylvania, his four sons moved south and settled near the New River of southwestern Virginia. The Jamestown settlers had already alienated the local natives, but when the Scots-Irish and German immigrants from Pennsylvania moved down into native hunting ground it aroused even greater hostility. It was not long before the French, trying to hold onto their inland forts and trapping territory, sought to take advantage of the growing native hostility toward settlers. They attacked the Shenandoah settlements including that of Adam Calhoun and the Caldwells at Staunton. They prepared to move to safer ground at a settlement on Horse Pen Creek, a fork of Cub Creek in the Southside of Virginia. After Braddock's Defeat in the so-called 'French and Indian War,' the sons of James Patrick, (now deceased) also fled Virginia. It seems they may have passed through Mecklenburg, North Carolina on their way South for Patrick Calhoun, Jr. married his first wife there. Patrick Calhoun, Jr. then moved on to a place called Long Cane Creek. He was the father of the future Vice-President, John C. Calhoun.
Trader Calhoun and the Colquohoun Migration to Western Pennsylvania
Some researchers claim that many of the Cumberland Calhouns also descend from the William Colquohoun who served with William of Orange. His son Rev. Alexander Colquohoun, father of James Patrick Calhoun of Chesnut Level, also had a son, Hugh, whose descendants lived in East Pennsboro, Cumberland County, Pennsylvania. This would make them distant cousins to John C. Calhoun. Yet another branch of East Pennsboro Calhouns seem to descend from Charles Colquohoun of Letterkenny, William's brother, who also served with William of Orange. John Calhoun born in 1705 in Letterkenny, County Donegal,Ireland died in Chester Pennsylvania in 1752. He married a Ewing.

At least one of the Cumberland Calhouns was a trader at the western frontier. The Delaware village of Sawkunk sat atop the western slope of the Alleghenies on the banks of the Beaver River where it emptied into the gorge cut by the Ohio River. The village saw more than its share of intrigue, ambush and betrayal during the years of the French and Indian war. In 1763 the Ottawa Chief Pontiac instigated a rebellion at the Allegheny frontier--and a Trader named Calhoun barely escaped with his life thanks to Chief Shingass who warned him of the impending Pontiac Rebellion. Trader Calhoun fled to the Ohio but was ambushed at Sawkunk. He lost eleven of his thirteen men, but managed himself to escape to safety. No one knows if he ever returned to Sawkunk, but a man named John Calhoun was among the first to claim extensive land patents at the Allegheny frontier.

Sawkunk village became the town of Beaver, and several Calhoun families settled near it on both sides of the Ohio River about the time of the Revolution. The trader was not necessarily related.

Calhouns were everywhere in Pennsylvania. Tracing family connections is quite convoluted. If you like boring details see the footnote.
Johnston Colquohoun/Calhoun and the Brig Cunningham Scandal
Some researchers claim to prove Johnston's descent from Charles Colquohoun of Letterkenny through his son "Cloud/Gloud Thaddeus."

Several Colquohouns came to Beaver County in 1790. It included the subject Johnston and a possible cousin named Andrew. There is little reason to question that Johnston Calhoun and his wife Jane Donnehay landed at the Port of Philadelphia about 1790. The "Brig Cunningham," was at the center of a scandal for its intolerable conditions and became the subject of a lawsuit. Considering that Andrew was a member of the Cunningham Manor Colquohouns, it is possible that Gentleman Andrew Colquohoun of Manor Cunningham was somehow responsible for the conditions on the Brig.

One "Gentleman Calhoun" filed an original Penn Grant in Cumberland County in 1791. Another Andrew arrived in Beaver County the same year. They possibly came to join earlier Calhouns of Cumberland and Beaver Counties.

Beaver County research reveals that four of Johnston's children were born in Ireland between 1785 and 1789. One of these died at sea on the infamous Cunningham. Another son was born in Pennsylvania in 1791 just after arrival. Johnston Calhoun is recorded in the U.S. Census of 1790 in Franklin County, Pennsylvania. They lived briefly near the Conococheaque River (undoubtedly pronounced "Kennigojig" by the immigrant Calhouns). According to the census they probably lived near Letterkenny or present day Chambersburg. Next, Johnston moved west to Washington County and finally settled in Beaver County created from Westmoreland and Washington Counties in 1800. Johnston contracted to sell provisions to the government in 1794 to put down the Whiskey Rebellion. He bought land in 1795 in what became Hookstown, Beaver County.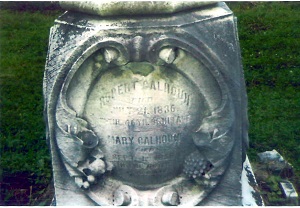 Grave of Robert Calhoun, Mill Creek, Beaver Co. PA
(Photo by Andrew Bolton of Pittsburg, 2004)
---
---
Dawson Maryland Ancestors
The ancestors of Verlinda Dawson were mostly English and Irish who settled in Maryland in the seventeenth century. Two published sources are available giving the history of this family. One by Lee O. Dawson is entitled Through Three Centuries with a Dawson Family: Records of Descendants of John Dawson and Allied Families. The author starts his account with the statement: "There is a tradition that the first American member of this Dawson family...was a Thomas Dawson who was 'second in command' under Lord Baltimore in Maryland." Apparently there are several versions of the relationship of Thomas to Lord Baltimore. The factual narrative begins with John Dawson and his wife Rebecca Doyne and their five (or more) children. For details see the above book.

Verlinda Dawson was raised on the Ohio River in the region around Georgetown, PA (north bank of river) and Calcutta, OH (about 1 mile from north bank of River). Her father, George, was a farmer but George's father, Benjamin (like many Dawsons) was a ferryman. Her mother, Narcissa, was George's first cousin. There was a tradition through many generations of Dawsons marrying first cousins.

Both Narcissa's father and George's father were born in Maryland. Their parents, Benoni Dawson and Rebecca Mackall brought them to western Pennsylvania about 1782 settling first in Fayette County.The border controversy between Virginia and Pennsylvania had just concluded and Virginia had ceded its claims to Pennsylvania. Some of the Dawsons moved across the border into Virginia to keep their slaves. The Pennsylvania General Assembly passed an act for the Gradual Abolition of Slavery on April 13, 1782.


Benoni Dawson of Georgetown, PA--and the ferrymen
Benoni brought his family and slaves by barge down the Monongahela to the Ohio and to the frontier in 1790. He had sent his sons ahead to drive his cattle overland. Beaver County formed in 1800. He became a leading citizen and farmer of Georgetown--a village he laid out and founded on his own land, 376 acres of "Indian land" patented to him by Virginia. The land was known as the "Bone of Contention." He erected a mill on Mill Creek and established a ferry business to cross the Ohio.

The first years were dangerous at the frontier. The Dawsons built a block house for protection. Two of his sons joined the militia of select riflemen stationed at the border. The settlers had to defend their own homes and were resentful that the new Federal government did not adequately support them. When the government levied a new tax on spirits they mounted the famous "Whiskey Rebellion."
---
---
---
---
FOOTNOTE (Boring Details)
The Western Pennsylvania Calhouns seem to derive from the branch who came to America before 1730. A John Calhoun bought land in a part of Chester County that became Lancaster County in 1729 and Cumberland County in 1750. John of Chester actually settled in Manchester in 1734 in what became York County in 1749. He married Rebecca Ewing. We will call him John of Chester/York. He died in 1750. Early Lancaster and later Cumberland County, records indicate that his descendants gradually moved west in Cumberland County, some reaching Beaver County in the Alleghenies by the time of the Revolution. One of these was named Samuel and one was named Adam.

A John Calhoun lived near the Maryland border in Hanover Township also in the part of Lancaster County that became York County. He died in 1749 and may be related to John of Chester/York. He was possibly the grandfather of Sarah, David and William (III) Calhoun who acquired land patents in what became Beaver County after the Revolution. He might conceivably also be related to a John Calhoun of Maryland who acquired large plantations in Washington and Fayette Counties at the Western frontier around the time of the Revolution.

A second wave of Calhouns who seem to be related to the Cumberland and York County Calhouns by location and associated family surnames, came directly to western Pennsylvania just before the Revolution. A William Calhoun is believed to have settled on the Ohio River at Shippingport by 1776. The family farm is now the Shippingport Nuclear Power Plant.

An Andrew Colquohoun, son of William and Janet Hamilton Colquohoun and great-grandson of a Samuel Colquohoun, was born at Manor Cunningham in Rye Donegal in 1764. Andrew's brothers are said to have emigrated to Pennsylvania during the Revolution. Suppose these brothers included William of Shippingport or Johnston's mythical brother or brother-in-law, Samuel? This Andrew descended from the Colquohouns of Cunningham Manor, Rye Donegal who descend from Sir John Colquohoun the brother of Adam of Donegal. Andrew also claimed to be a cousin of John C. Calhoun.