The Ancestors of Jacob Teeter
Constable of Truckee, CA
Dieter/Teeter
The Teeter (or Dieter) ancestors came from the Palatinate of Germany to New York about 1710. The Teeters followed a peaceful farming life along the Delaware River. Unfortunately violence found them. The British attacked their farm during the Revolution in 1776. Two years later after Tories and Iroquois massacred settlers in the Cherry Valley ofnortheastern Pennsylvania, Henry Teeter joined an expedition to eradicate the Iroquois. Before he returned from the war he selected a site for a future tavern on Cayuga Lake in New York.
Jake Teeter was born July 20, 1834, in Belvidere, New Jersey. They migrated south some ten to twenty years later to Bucks County, Pennsylvania. When the Commonwealth acquired new lands, the Dieters bought additional land and opened the Pleasant Valley Tavern below Bethlehem.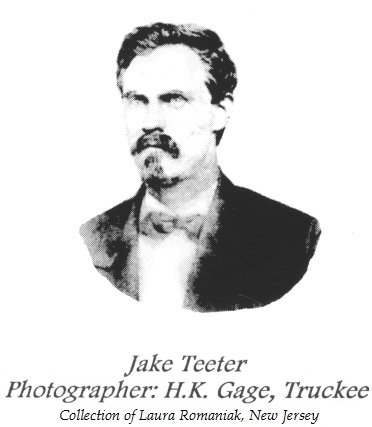 Jake's great-grandfather, Coonrad Dieter bought land along McMichael's Creek west of the Delaware Water Gap in 1764. Before the Revolution, however, he gave his share to his eldest son Henry who kept a tavern on the land. Coonrad relocated across the Delaware in New Jersey at a place called Knowlton on the Paulin's Kill. Coonrad died before the war, leaving his wife, Maria Catherine and his youngest sons to keep the farm. The children began to spell the name, 'Teeter'.
During the winter of 1776 the Revolutionary War came to the Delaware River. All of the widow Teeter's sons and sons-in-law served the cause. General George Washington conscripted the ferryboat of her daughter Catey's husband, John Diltz, to haul iron for the patriot cause--whenever the river was not frozen. The British General Howe and his troops had marched south and west from New York and encamped at Trenton. Abraham Smith, husband of Maria Catherine's daughter, Elizabeth, and Daniel Britton, fiancÚ of her daughter Charlotte, served in Pennsylvania during the campaign.
While Washington stunned the British at the Battles of Trenton and Princeton, marauding British troops roamed north along the Delaware raiding farms and villages near the Water Gap. A wounded British officer came to the farmhouse door of Maria Catherine Teeter. She took him in, nursed him, and buried him. She saved a scrap of his blood-stained uniform as a memento of war. Then the British troops torched her farm. Forced to flee across the Delaware, four of her little granddaughters fell overboard into the icy water and died of exposure.
In 1778 Tories and Iroquois raided the Wyoming and Cherry Valleys fifty miles north of Henry Teeter's tavern and massacred two hundred settlers. Henry joined the Northampton Rangers and accompanied General Sullivan's army of 2500 men on a retaliatory campaign to destroy the Iroquois League in the lakes region of New York. On the march Henry picked out a site for a new tavern on the southeast shore of Cayuga Lake. He returned to the battle scene in 1791 to build his tavern. Much of the Teeter family of the Delaware River region followed. In 1804 the tavern went up in flames, taking Henry's wife. Henry died six months later.
Coonrad Teeter's youngest son, Elias Teeter, and his wife, Catherine Huffsmith, did not go to New York with the others. They remained on the family farm on the Paulins Kill until his death in 1830. His son Elias Teeter, Jr. and his wife Catherine Kinney remained behind in New Jersey also. Family and friends considered Catherine Kinney to be clairvoyant. One of her telepathic urges had saved the life of a country doctor who had plunged into a raging creek one night in a brutal storm. Despite Catherine's psychic talent, tragic and early death plagued her children. The Teeters seemed ill-fated if not star-crossed. (Even Jake Teeter himself may have believed in astrology for among the mementos he saved in his bible, was a natal chart prepared by an astrologer.)
Jake's father and mother and their family (which had grown to six), left New Jersey to join the other Teeters at Cayuga Lake in the 1820s. Catherine bore two more children at the Lakes, Elias in 1828 and Laura in 1832. Shortly thereafter the family returned to New Jersey and settled at Belvidere on the Delaware about twenty miles below the Water Gap where Jake Teeter was born.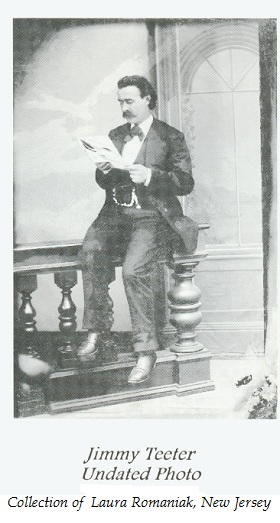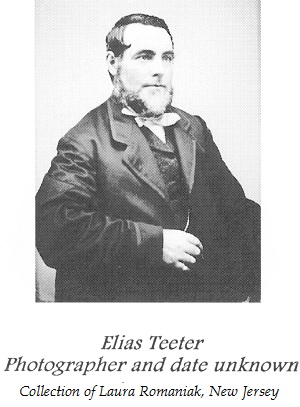 Fifteen years later Elias and Catherine moved once again following their married daughters to Michigan Territory. They leased a farm in Addison Township, Oakland County, fifty miles north of Detroit, but soon Elias became feeble. Jake and his younger brother Jimmy were left to run the farm themselves. Elias died in 1856 and Catherine a year later. Jake had promised his mother to take care of his younger sister Mary Jane until she married. The boys however were smitten with the urge to go west--a common complaint among young men of Michigan. Gold fever particularly afflicted their older brother Elias who lived with his young family in a neighboring county. Luckily Jake's older sister, Laura, and her husband Jonathan Mortimer, a stock broker from New York, agreed to care for Mary Jane, leaving Jake and Jimmy free to go to California.
---
---
Ancestors of Jake Teeter


  





				Coonrad Teeter  
				b.							
				d. 1771, Knowlton, NJ  
			        |
			Elias Teeter,  
			b. ~1760, PA 
			d. 1830, Blairstown, NJ  
			|	| 
			|	Maria Catherine Weber 
			|			

		Elias Teeter    
		June 15, 1791 NJ
		d. 1856, Oakland Co., MI   
		m. June 24, 1813
		|	|
		|	|
		|	|		 Peter Huffsmith
		|			|	
		|
		|	Catherine Huffsmith    
		|	b. 1765 
		|	d. Apr. 13, 1837 
		|	
			
 	Jacob Teeter
 	b.July 20, 1834, Belvidere, NJ    
	d.Nov. 7, 1891, Truckee, CA   
	m1. Rhoda Ann Reid/Reed, Nov. 6, 1864, Butte Cr., CA 
 	m2. Margaret Ann Newkirk, Nov. 7, 1875, Truckee, CA 

		|
		|
		|	John Kinney 
		|	|	of Oxford, NJ 
	 	|	|
		 
 		Catherine Kinney   
		b. Nov. 7, 179564   
		d. Aug. 8, 1858, Oakland Co., MI   


Sources:
Family Bible of Elias Teeter, II in collection of Laura Romaniak of New Jersey who is the great-grandniece of Jacob Teeter
Grace Rice, "Teeter Family History," unpublished manuscript, Dept. of Manuscripts and University Archives, Cornell University, pp. 1-9. Other sources on request.
Vital records of Jake Teeter's children:
 
	Mother: Rhoda Reid
	Children:
		William b. Jan. 22, 1866, Butte Creek, CA45
			d.?
		Edward b. Aug. 22, 1867, Butte Creek, CA45
			d.?
		Charles b. Aug. 22, 1869, Truckee, CA45
			d. Aug 11, 1906, Loyalton, CA 
	Mother: Maggie Newkirk
	Children:
		Edgar b. Sept. 12, 187448
			d. Feb 21, 1923, Truckee, CA 
		John b. May 22, 1876, Truckee, CA 
			d.1945
		George b. April 22, 1877, Truckee 
			m. Amber Smith Jan 13, 1901,
				 Loyalton, CA (dau of Mr and Mrs. Dan Smith of Truckee) 
			d. Aug 13, 1904, Pine Station, CA 
		Margaret b. Mar 22, 1879 
			m. Arthur Davies

d. >1935
NOTE THE COINCIDENCES:
All the children except Edgar were born on the 22nd day of the month. Rhoda's children, Edward and Charlie, were both born on August 22. Maggie's children, John, George and Maggie were born in consecutive months, March, April and May on the 22nd of the month. Jake was fatally shot on Nov. 6, the anniversary of his marriage to Rhoda. He died Nov. 7, the anniversary of his marriage to Maggie and the birth date of his mother, Catherine Kinney Teeter.