Descendants of SAMUEL PAINTER and KATHARINE (KATY) FRANK
of Pike County, Indiana
Return to Painter Family
FOOTNOTES: Numbered footnotes are located on a separate page. If desired, you may close this page and open the footnotes or you may view them in a separate window.
MIGRATION FROM OHIO TO INDIANA
Samuel Painter and his wife, Katherine Frank came to Pike County, Indiana between 1850 and 1860. Samuel resided on Mud Creek, Section 31, Twp 1 S, Rge 7 W. They were part of a group migration from Montgomery and Preble Counties of the Miami Valley in Ohio which included members of the Frank and Snyder families.
Simon P. Frank owned a grist mill in Sec. 29, Twp 1 N, Rge 7 W. He was the son of David and Maria Louisa Frank of Dauphin County, PA and Montgomery County, OH. Simon married Rhoda Hayes in Pike County in 1845. After Rhoda's death in 1854, Simon married a woman named Sarah.
David Frank patented land in Pike County but apparently died prior to 1840. His widow Maria Louisa Frank then lived in the household of her son, Simon P. Frank. She died after 1860. Simon died in 1885 in Pike County.
The possible relationship of Katherine Frank Painter to the above Frank family is under investigation.
The ancestors of Samuel Painter are also under investigation. It is not known if Samuel was related to Louisa Painter, a pioneer of Pike County. It seems most likely that Samuel came to Ohio as a child from Shenandoah, Rockingham or Botetourt County, Virginia in the early 1800s. He and Kathrine (Katy) Frank were married before 1840 and lived about fifteen years in Preble County, Ohio before coming to Petersburg in Pike County.
Samuel Painter's son David, married Cynthia Morton, the daughter of Elijah Morton and Nancy Crane. Cynthia was the granddaughter of Joseph Morton. The Mortons had joined a group migration from Mercer County, Kentucky. The Banda family of Mercer County, Kentucky and Montgomery County, Ohio may have played a role in the migrations from both Kentucky and Montgomery County, Ohio.
Samuel Painter's son Jeremiah married Austina Klutz of Pike County. Samuel's son Henry, may be the Henry Painter who married Ellen Burale in Pike County. The marriages of Samuel and Katy's other children is speculative: Louisa perhaps marrying Andrew Snyder and John possibly marrying into the Leslie family of Pike County.
At least three of Samuel and Katy's sons served in the Civil War from Indiana. Sons John and Jeremiah are buried in Pike County. Son, David, migrated in the 1880s to Kansas, first to Newton and later to Medicine Lodge.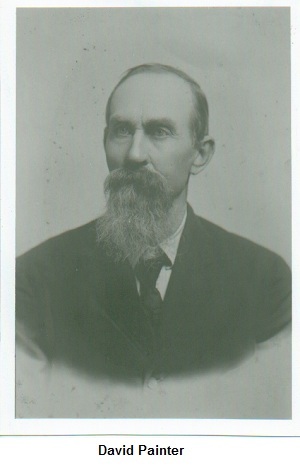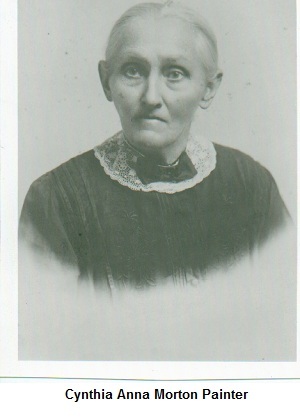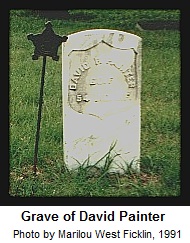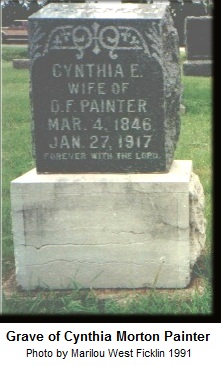 ---
SAMUEL PAINTER & KATHERINE FRANK -- FAMILY GROUP SHEET

Husband: Samuel Painter 			         		Husband's Father: Unknown
b. abt. 1803, Virginia (E1,D1,F2)					Husband's Mother: Unknown 
m.  
d. abt. 16 April 1884, Petersburg, IN (D1, E1)
bur. Leslie Cem., relocated to Hwy 57 Opposite Towne Motel (D1)

Wife: Catherina/Kathrine Frank 						Wife's Father: [David Frank]  
b. abt. 1808, Pennsylvania(C1,C3,C6,F1)					Wife's Mother: [Maria Louisa Hornette] 
d. aft. 1870 Petersburg, IN(F1)		
bur. Leslie Cem., relocated to Hwy 57 Opposite Towne Motel (D1)

Children:(C1,C3,C7)
1. Henry, b. abt. 1834, Ohio (C2)
   m. [21 Sep 1856, Pike county, IN](B6)
   d. [bef 1860](C4)
   sp. [Ellen Buralle](B6)
    children: 
        possibly Erastus (C4,C7) 
        (b. abt. 1858, IN (C4,C7);
        sp. Elizabeth Tully (B10,C8) 
         children: 
           Maggie,(B10,C8) b. 16 Jan 1896;
           Erastus, b. 5 Nov 1900) (B11)

2. Louisa, b. abt. 1837, Ohio(C2)
   m. 
   sp. [Andrew Snyder ](B5,C6)
 
3. John (C2,C4,C6) b. abt. 1838(F4) 
   m. 
   sp. [Leslie?]
   d.
   bur. Petersburg, IN, Indian Mound, relocated to Leslie Cem.(D2)
     children:

4. Jeremiah (C2,D3,F3) b. 29 April 1839, Preble County, OH (B2)
   m. 19 March 1870, Petersburg, IN (B7)
   d. 27 January 1925, Petersburg, IN (B2,D3)
   bur. /McClure/Algiers Cem, Jefferson Twp., Pike County IN(D3)
   sp. Austina Klutz (b. 4 Jan 1844, d.7 September 1920, Petersburg, IN(B3)
     children: 
       Howard (b. 1881; m. Jessie G. Bell abt. 22 Dec. 1910(B9), d. 1964 (D3)[Jessie b. 8 March 1873])(G1)

5. David Franklin (C2,C4,F1,F2)
   (See David Painter)

6. William b. abt. 1845, Ohio (C2,C4)
  
7. [Susan] 
   b. abt. 1829, Ohio(C2,C4)
   sp. [m1 Givens, m2 Mead ]
   d. aft. 1860


---
DAVID PAINTER & CYNTHIA ANN MORTON -- FAMILY GROUP SHEET


Husband: David Franklin Painter (E1, F1, F2,C1,C2,C4,C5)	Husband's Father: Samuel Painter (C1,C2)
b. 13 November 1843, Preble Co., OH(B2,E2)			Husband's Mother: Katherine Frank (C1,C2)
m. 6 December 1866, Petersburg, IN (B5)
d. 9 May 1924, Medicine Lodge, KS (B2)
bur. Medicine Lodge ( D1)

Wife: Cynthia Anna Morton (F3,C2,C4,C5)				Wife's Father: Elijah Morton(B3,C3,F3)
b. 4 March 1846, Perryville, KY (B3,B4)				Wife's Mother: Nancy Crane Blacketer (F3)
d. 27 January 1917, Medicine Lodge, KS (B3)
bur. Medicine Lodge (D1)

Children:

1. William Wilbert (C4,C5,C6)
b. 9 October 1867, Petersburg, IN(E2)
m.
d.
sp. Luella ______(b. Feb 1880, KS)(C5)

2. Charles Clement(C4,C5,F1,F2,E1,G1)
b. 13 August 1869, Petersburg, IN (E2,G1)
m. October 1893 (F2,G1)
d.
sp. Clara B. Minnick(F2,G1)
 
3. Cora Edith [Edie] (C4,E2,G1,G2)
b. 9 October 1871 (B4,G1,G2)
m.  10 June 1885, Newton, KS (G1,G2)
d. 23 February 1934 (B4)
sp. Samuel J. Adams  (G1,G2)
 
4. Ora Catherine [Kate] (C4,C5,E2)
b. 28 September 1873, Petersburg, IN(E2)
m. 3 November 1898, Medicine Lodge, KS (F1)
d. 8 August 1909, Medicine Lodge, KS (A2)
 sp. George W. Horney (F1,A2,A3)
 
5. Lillian Vicury (A4,C4,C5)
b. 19 October 1875, Petersburg, IN (A1,B1,E2)
m. 14 January 1897, Medicine Lodge, KS (F2,F4)
d. 6 February 1959, Palo Alto, CA (A1,B1)
sp. Uriah Clayton Herr (A4,F4)
children:  (See Uriah Clayton Herr and Lillian Vicury Painter)

6. Henry Walter (C4)
b. 18 December 1877, Petersburg, IN (C4,E2)
d. 5 April 1881, Petersburg, IN (E2)