SHOWDOWN AT TRUCKEE
The tragic rivalry between Constables Jake Teeter and James Reed
set in the high sierra railroad town of Truckee
in the rough days of vigilantes -- 1860's to 1890's.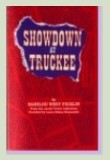 .
Buy at PayPal for $9.95 (+ 7.25 % tax +$3.00 shipping) = about $13.47 total. (Paypal calculates final cost.)
Please let me know about any significant descrepencies.
Dealer rate structure available on request. Dealers: please send email to info@westerly-journeys.com.